Audi R8 4.2 FSI quattro
May 2007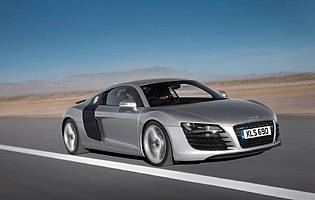 R8's rakish exterior helps it stand out from the supercar crowd
Ratings
Overall rating
Value for money
Costs
Space and practicality
Controls and display
Comfort
Car security
Car safety
Likes
Rakish looks afford the R8 tremendous kerb appeal
High quality cockpit and wide range of optional trims
Powerful and flexible V8 engine makes an incredible noise
Thanks to four-wheel drive, handling and grip levels are impressive
Gripes
Although useful, space in the R8's front 'boot' is only modest
R-tronic semi auto gearbox is an acquired taste and requires a smooth touch
The R8's outgoing exterior commands attention - make sure you're ready for it
Rear three-quarter vision is poor, which can make parking tricky
The supercar club is a pretty exclusive one, and its members are not only the usual suspects but also car makers steeped in motorsport history. Audi has done more than dabble in motorsport in recent years, but until the arrival of its R8, it didn't have a standalone supercar to act as a halo model.
Whatever you say about Audi's R8, don't say that it's just a Lamborghini with a different badge. A lot of the R8 is unmistakably Audi - inside and out. The car's cabin is pure Audi, from the column stalks to the excellent sat-nav and MMI controller. There's also the small matter of the car's engine, which is the already proven 4.2-litre V8 from the well-received RS4 family of cars.
With the engine behind the driver and the inclusion of four-wheel drive, all the basic ingredients are there in the R8 for it to deliver an exhilarating driving experience. The cabin is spacious and well appointed. In fact, the cockpit puts a lot of existing supercars to shame. Traditional Audi values - sound ergonomics, quality components - are most obvious.
But it's the driving experience that's going to be under the most scrutiny. In recent years there's been criticism over uncommunicative steering and an over-hard ride on Audi's mainstream products. The firm has done much to rectify this, and the current crop is much improved. This achievement has been magnified tenfold with the R8.
Blisteringly fast yet composed and unruffled at speed, the R8 aims to flatter the enthusiast yet won't patronise the expert driver. The V8 engine sounds fantastic at any speed, while the level of grip available in the dry promotes a high level of confidence. In keeping with the trend for racecar-like gearboxes, the R8 can be had with a semi-auto 'box called R-tronic. Aimed at serous enthusiasts, it demands more finesse from the driver but the rewards are worth it if you plan to regularly exploit the R8's potential.
Our verdict on the Audi R8 4.2 FSI quattro
With an exterior that's like no other in what is already a brash and outgoing sector of the market, Audi's R8 is a classic example of a true 'head turner'. But for all the glamour, this car really can walk the walk in terms of delivering an experience to rival that from a Porsche, Ferrari, Aston Martin and Lamborghini. Thankfully you don't have to go flat out to enjoy the R8, as its flexible nature means it can be used daily. Just watch out for those speed humps.
Costs

By regular standards the R8 isn't a cheap car, but viewed within its market and its very good value for money. However, along with the car's considerable performance will be supercar bills for fuel, insurance and tyres. You'll also pay dear for any current and future taxes linked to CO2 output.
Space and practicality

The only exterior luggage compartment is the space in the R8's nose, which is rated at 100 litres. Deep rather than wide, it'll take a couple of soft overnight bags. In the cabin there's space behind the seats from some oddments, but in real terms that's about it. The R8's door pockets aren't map-friendly, but they'll hold an average-size water bottle and your mobile phone. The glove box is a good size, also.
Underneath the clear cover lies Audi's acclaimed 4.2-litre petrol engine
Controls and display

The majority of the R8's controls will be familiar to any Audi driver. Everything is close to hand, and the all-important main dials are large and easy to read at a glance. Placed low in the central fascia, the ventilation controls are also easy to use, and the same goes for the column stalks. The large colour display works well, and is the focal point for the audio, car status and sat-nav - when fitted.
Comfort

Supportive seats, a comfortable and adjustable driving position and a surprisingly spacious cabin all contribute to a pleasant driving experience. When you're not pushing the car hard, wind, road and engine noise is pleasingly minimal, and the car's suspension does an excellent job of soaking up road imperfections - more so than you'd expect from a car in this class.
Car security

The usual combination of remote locking and immobiliser are present. For extra peace of mind it would be worth investigating in a tracking device. Not only would it help protect your investment but no doubt make securing a sensible insurance quote easier.
Car safety

You get all the airbags you need plus the usual array of electronic stability and traction features. Thankfully the latter only intervene when absolutely necessary, meaning you're not robbed of enjoyment when driving hard. Of course, the R8's four-wheel drive system is both a performance aid and safety net, and proves very useful in wet conditions.
Driver appeal

This is what it's all about with the R8, and the car doesn't disappoint. The 4.2-litre V8 engine is powerful, torquey, responsive and makes all the right noises. The steering is direct and pleasingly communicative, while the brakes are progressive and powerful. The whole package is incredibly entertaining and, unlike some rivals, not at all intimidating. Driven slowly the R8 is at home around town, although the real fun is away from urban areas. Rapid acceleration is achievable without the usual supercar dramas, and cornering is impressive thanks to the car's four-wheel drive and suspension set-up. Standard fit is a six-speed manual gearbox with a Ferrari-style gated shift, plus there's a semi-auto (R-tronic) option. The latter requires a more sympathetic approach to gear changes at low speeds but proves devastatingly quick at higher speeds, especially with the added bonus of steering wheel paddle shift levers.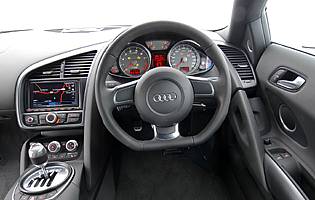 Wraparound fascia feels special and houses some of the best quality switchgear in this market sector
Family car appeal

In a word, no. Certainly not as the sole car in the garage, anyway. Older children will be better able to appreciate the car's abilities, which increases its appeal if part of a multi-car household. And unless you want the butter to melt, putting perishable shopping in the front boot isn't a good idea as it can get hot in there.
First car appeal

It's a big no for this category, and for all the obvious reasons. The R8 is hugely powerful and not the easiest car to park - two aspects that usually cause problems for novice drivers. And all this is without considering the predictably costly insurance premium.
Quality and image

It couldn't be better for Audi in the image department; a high profile road presence, popular range of cars and success in motorsport are the key factors. The latter in particular won't hurt the R8's success, while the German firm has built up an enviable reputation for producing high quality cars - and the R8 continues this trend.
Accessibility

For a low-slung car the R8 is reasonably good. The doors open nice and wide, although it's best not to park too close to other cars. Getting in is, predictably, easier than getting out, but so long as you're pretty agile you'll be fine. Access to the engine is straightforward thanks to its mid-engined position. The same is true of the forward luggage compartment.
Stereo and ICE (In car entertainment)
The standard fit audio unit is of good quality - just like you'd find in other Audis. The steering wheel controls are especially welcome on a car of this calibre. Operation is made easy thanks to the dominant colour screen located in the fascia, which comes into its own when the sat-nav option is selected. Also optional is a superb-sounding Bose stereo system, an increasingly common sight on high-end cars.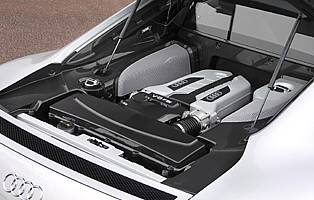 The R8's V8 motor sounds fantastic when pushed hard and is surprisingly flexible at low revs
Colours and trim
You're not short of customisation options with the R8. In standard trim the car is pretty good, but opting for carbon or coloured 'blades' - the side panels - is a popular one. Inside, the standard leather is good, and that can be extended to the doors and fascia. Alternative trim panels are also possible, with the carbon fibre selection particularly attractive.
Parking
The R8's parking sensors are absolutely essential, thanks in part to the car's deceptive overhangs, low ride height and poor rear three-quarter vision. The former two attributes are to be expected with such a car, but the over the shoulder view is disappointing. The R8's wide stance is rarely an issue, and the car's power steering offers plenty of low speed assistance. Patience is required when switching between forward and reverse with the semi-auto R-tronic gearbox, though.
Spare wheel
Standard fit is a 'tyre mobility system' or mousse inflation kit.
Range information
Petrol engine option - 4.2-litre V8 (420PS).Transmission options: six-speed manual gearbox or six-speed R-tronic sequential manual gearbox. No specific trim levels but generous range of optional equipment available.
Alternative cars
Porsche 911 Modest 911 hides its talents well. Some might think it's too common though
Aston Martin V8 Vantage Elegant Aston is deceptively quick yet is refined and comfortable with it
Ferrari F430 Fashionable alternative is not short of talent but is expensive in this company
Lamborghini Gallardo Baby Lambo is hugely entertaining, but isn't cheap and not always practical for daily use
Over 1,200 more car reviews online
All the reports since 1990 are available on this site, just search by make and model below.
Other products & services
Related information
May 2007