Citroen C4 Picasso 2.0 HDi VTR+
December 2006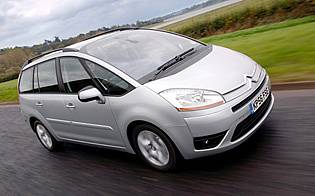 The C4 Picasso's wraparound windscreen is distinctive and striking
Ratings
Overall rating
Value for money
Costs
Space and practicality
Controls and display
Comfort
Car security
Car safety
Likes
Panoramic windscreen makes the vehicle feel light and spacious.
Automatically lit door bins and other clever storage and light combinations.
Absence of a conventional gear lever and handbrake on auto variants creates lots of front cabin space.
Air quality sensor shuts out dirty air from the cabin automatically.
Gripes
Second row of seats does not fold completely flat and isn't as easy to fold as the third row.
Electronic auto gearbox is ill suited to the petrol engines, particularly in full auto mode.
Push-button parking brake is slow to react.
Can be troublesome finding a comfortable driving position in models with electric seats.
Citroen paints a picture rich with space, light and classy touches with its C4 Picasso. While paddleshift gears and a push-button handbrake may be a welcome novelty to some drivers, they are guaranteed to leave others cold. Potential buyers will need to truly appreciate the wealth of gadgets and finer details enough to pay a price similar to that of a VW Touran.
Citroen is already one of the biggest players in the MPV market, which accounts for around one in 10 of all cars sold in the UK. With the C4 Picasso, Citroen offers compact MPV buyers a choice of two very different and distinctive styles and interior configurations. The C4 Picasso's seven seats adds to the five seats of the older Xsara Picasso.
Citroen hopes to tempt previous purchasers of the Xsara Picasso, and customers who want to be ahead of the game in terms of functionality, personality and style. Exterior details such as the wraparound windscreen, chrome chevrons, subtly flared wheel arches and stylish rear taillights are matched inside.
Plush upholstery, 32 interior light sources and the presence of an array of advanced driving aids such as Citroen's parking space measurement system could easily lure those drivers seeking quality and luxury on a larger scale than afforded by the Xsara Picasso, but as with all vehicles, the performance must equal the pomp, too.
Performance is best with the diesel engines, which boast decent pulling power and flexibility. The fairly soft ride means passengers aren't at the mercy of tarmac bumps, but it doesn't float on undulating roads either. While grip is reasonable the C4 Picasso does suffer from body roll going through bends, as is a trait of this class of vehicle.
Our verdict on the Citroen C4 Picasso 2.0 HDi VTR+
The innovative, futuristic design accompanied by the C4's signature use of technology really do push the Picasso ahead of the compact MPV pack in the style and space race. Practical and luxurious, the C4 Picasso lacks punch only in terms of its petrol models' performance, where Vauxhall's Zafira leads the way.
Costs

There's potential for good offers when buying a C4 Picasso from new, which otherwise competes with the likes of the Ford S-Max and Volkswagen Touran in terms of price. The diesels are likely to be most popular, given their superior fuel economy making running costs competitive, while standard equipment levels across the range are good.
Space and practicality

The C4 Picasso offers the largest amount of space between the front seats, largest amount of legroom in the second row and largest boot volume in the five-seat layout. With its quick and flexible array of seating configurations, the C4 Picasso is exceptionally spacious and highly practical. The array of storage bins and cubbys is exceptional, including a central refrigerated cubby to hold drinks in the front, while boot space, as you'd expect, is ample for most purposes.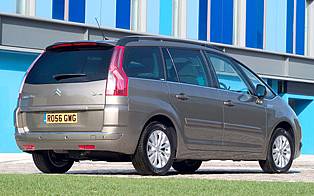 The rear looks deceptively compact and decidedly Citroen
Controls and display

The absence of a conventional gearstick (on the auto models) and parking brake to your left is bizarre at first. Equally, drivers might feel uncomfortable with the column-mounted lever for the auto gearbox, and the use of the extra gearchange paddles that clutter the wheel area. The manual gearshift is more conventional, however. There are many buttons and displays to get to know around the cabin, although the main instruments are clear and easy to read.
Comfort

Air conditioning is standard on nearly all models, while top spec versions also include dual-zone automatic air conditioning and air quality sensors. Noise and vibration are minimal - the C4 Picasso is exceptionally well protected from wind and exterior noise as well as cabin boom and vibration, and the bulkhead soundproofing deals well with engine noise intrusion.
Car security

All models feature remote central locking with deadlocks, engine immobiliser, and electric child lock indicator. The doors and boot automatically lock when the car is in motion, and additional features such as the optional child surveillance mirror give added peace of mind. Smaller valuables and items of luggage can be stowed out of sight in storage bins beneath the rear seats, while the luggage cover itself is easy to use and sturdy, too.
Car safety

The C4 Picasso is exceptionally safe. The top-quality braking system is indicative of the safety features fitted as standard on all models, which includes seven airbags, EBD and ESP with traction control. In terms of child safety, the C4 Picasso features four Isofix seats mounting points including all three seats in the second row, electric child lock system for the rear doors and windows, and anti-pinch functions on the windows and shutter blinds.
Driver appeal

While the diesel variants handle neatly, the Picasso's size means it is a heavy vehicle, and the petrol versions do not feel as comfortable as their diesel counterparts. The 2.0-litre, 138bhp diesel engine offers by far the best experience. Its petrol equivalent can feel sluggish, especially when mated to the auto transmission. However, all models feature responsive steering, and the turning circle is thankfully tight, making manoeuvring in urban traffic relatively easy.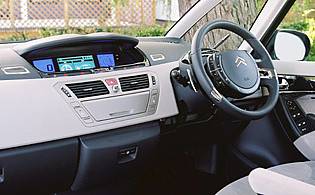 The absence of a conventional handbrake and auto gearlever creates even more space in the front cabin
Family car appeal

With its ability to comfortably and safely seat seven the Picasso is ideal for young families, particularly as child seats can be fitted to all three seats in the second row. The optional flatscreen DVD players with headphones for passengers in the outer seats of the second row are great for keeping children happy on long journeys.
First car appeal

The Picasso is unlikely to appeal to first time buyers due to its cost and size. It's not a difficult car to drive, but a novice driver will probably find something like Citroen's C1 or C2 city cars a better introduction to motoring.
Quality and image

The exterior design is long, sleek, low and almost futuristic - and is matched with the high standard specification inside. The attention to detail and quality is obvious, making this compact MPV far removed from the 'box on wheels' label of its predecessor in this sector.
Accessibility

Doors operate easily despite their solid construction. All are hinged rather than sliding, which is pleasing to the eye but can be tricky in tight parking spots. Dependent on specification, the driver's seat can be adjusted with height, tilt, pitch and lumbar settings, while the steering column can also be configured for rake and reach. Electric front windows and door mirrors are standard across the range. A neat touch is a button in the boot, which lowers the rear of the car to load heavy or awkward objects.
Stereo and ICE (In car entertainment)
SX, and VTR+ trim levels feature a Philips audio system comprising an RDS stereo radio/CD player with six speakers and steering-mounted controls, while Exclusive models are also able to read MP3s. As an option, passengers in the second row can watch DVDs on two independent flat screens built into the back of the front row seats.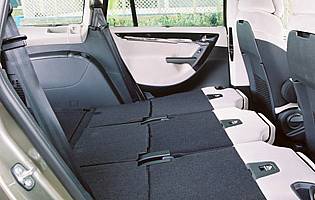 The second row of seats folds down with ease to produce an almost flat expanse for storage
Colours and trim
All C4 Picassos feature high-quality soft-touch surfaces in neutral, inoffensive colours as well as chrome accents inside. Luxurious leather is not a sensible option for those with sticky-fingered children and mucky pets. The top-spec Exclusive model gets strips of gentle lighting along the door openings, under the facia and along the front sunblind housing, as well as trays in the backs of the front seats which drop down to reveal the optional DVD screens.
Parking
Parking vehicles of this size is not always easy, but the Picasso's design does well to simplify the process. Its huge glazed area and narrow pillars provide exceptional all-round visibility, although there can be a degree of uncertainty as to where exactly the front of the car finishes due to the sloping bonnet. In addition, the C4 Picasso can be had with parking space measurement sensors, advising the driver on whether a manoeuvre is possible, difficult or inadvisable.
Spare wheel
All models come with a tyre repair kit (mousse and electric pump) and no spare wheel as standard.
Range information
Petrol engine options: 1.8-litre (127bhp) and 2.0-litre (143bhp). Diesel engine options: 1.6-litre (110bhp) and 2.0-litre (138bhp). Transmissions available: five-speed manual gearbox, six-speed electronic gearbox with a switchable fully auto mode. Trim levels are LX, SX, VTR+ and Exclusive.
Alternative cars
Vauxhall Zafira The Zafira is an innovative option and the perfect family car.
Renault Scenic Highly adaptable, with five or seven seats.
Volkswagen Touran Good to drive, the Touran offers a classy design at a competitive price.
Ford S-Max Offers the sportiest drive of the vehicles in this sector.
Over 1,200 more car reviews online
All the reports since 1990 are available on this site, just search by make and model below.
Other products & services
Related information
December 2006