Audi A6 Allroad quattro 2.7 TDI
June 2006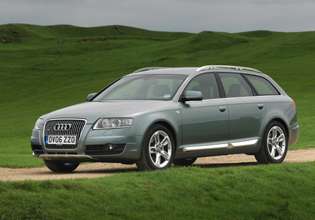 Allroad distinguished by grille without horizontal bars
Ratings
Overall rating
Value for money
Costs
Space and practicality
Controls and display
Comfort
Car security
Car safety
Likes
Rugged yet refined exterior
Cabin is superbly constructed and attractive
High levels of refinement
Impressive off-road ability
Gripes
A little expensive in comparison with rivals
Petrol engines offer average economy
Steering lacks feel when driven at speed
Exterior looks very similar to previous model
Blurring the boundaries between an SUV and a four-wheel drive estate car, the Audi Allroad gave a large number of buyers the off-road capability they wanted in a package that was as refined and usable as a regular Audi. With the revised A6 range now established, Audi has released the new Allroad, which aims to continue where the old version succeeded.
In recreating the A6 Allroad in a similar market sector to the original car, Audi has placed it in a segment with few genuine rivals. More capable than many four-wheel drive estates, it is also happier on a conventional road than many luxury SUVs. Audi claims that the number of buyers will be relatively small, but that the car will meet their needs specifically thanks to its range of abilities.
It is easy to distinguish the Allroad from the conventional A6 Avant thanks to the numerous exterior alterations. Both the front and rear bumpers are exclusive to the Allroad, as is the bold front grille, which does without a horizontal bar. Flared wheel arches and extended sills signal its abilities, while steel underbody protection guards against damage to the mechanicals when travelling over difficult terrain.
Those mechanicals include a range of engines designed to offer impressive on-road performance as well as sufficient torque to cope with off-road situations, via a choice of six-speed manual and automatic gearboxes through to the quattro four-wheel drive system. Included in this is a self-locking central differential for really tricky conditions, plus the impressive air suspension, which can be adjusted for a range of environments.
Inside the Allroad displays the usual impressive Audi mix of materials and technology, and uniquely in this model uses a special monoPur fabric which is double woven in order to cope with muddy footwear. It also uses the innovative Multi Media Interface to control the wide range of vehicle systems without resorting to a multitude of fascia buttons.
Our verdict on the Audi A6 Allroad quattro 2.7 TDI
Although aiming at a narrow target audience, the Allroad delivers a highly impressive combination of flexibility, luxury and attractive design. The wide choice of engines should suit all needs, while the tough exterior is bound to attract even those with no need to exploit its impressive off-road credentials.
Costs

Although relatively high, the initial purchase price of the Allroad is offset by the amount of standard equipment fitted, as well as the impressive capability of the car. Diesel versions offer respectable economy, although insurance costs are likely to be relatively high.
Space and practicality

While not the most capacious vehicle, the Allroad does offer plenty of space. Front and rear seat passengers enjoy generous head and legroom, while the boot is long and wide. Additional features such as under-seat storage and lashing points and rails in the boot, boost its overall appeal.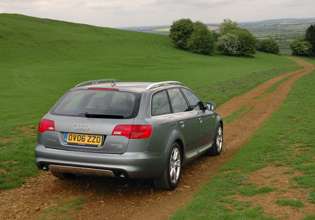 Higher ride height and chunky body cladding are also standard
Controls and display

The interior of the Audi is driver focused and informative as well as easy to use. The instruments are a model of clarity and style, while the supplementary information systems are easy to read. The Multi Media Interface operates many of the vehicle controls via a rotary controller and supplementary buttons, and while it takes a little familiarisation, it becomes easy to use with practice as well as reducing the number of buttons on the facia.
Comfort

Supportive seats with plenty of adjustment are standard in the front, while in the rear the outer chairs are also supportive. The low noise levels contribute to the overall degree of comfort, while the air suspension system is impressive in soaking up road imperfections.
Car security

As well as a visible VIN plate and remote central locking, all versions of the Allroad come with a Thatcham approved anti-theft alarm, which includes tow-away protection for added peace of mind.
Car safety

Three Isofix mounting points are a useful safety feature, while the latest generation of ESP with an off-road mode provides reassurance. Elsewhere, twin front and twin side airbags are complemented by roof bags on each side, providing a high level of protection in an accident.
Driver appeal

The chief appeal of the Allroad is its successful combination of dual roles. On normal roads it is a comfortable and refined car, with an impressive ride and strong acceleration from the diesel engines. The automatic gearbox works well, and there is little road and wind noise. Venture off-road, and it performs surprisingly well given its on-road bias. With regular road tyres it may fall short of proper 4x4 vehicles, but for the vast majority of users it will provide exactly the amount of occasional off-road use that is required. The bonus is that this ability does not interfere with the cars comfort and usability.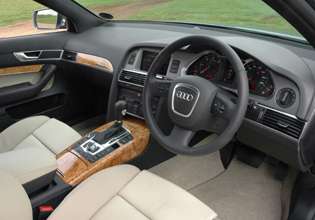 High quality interior is a pleasure to use
Family car appeal

The Allroad has all the features required for a family car, with good passenger space front and rear and a very generous boot. It also has a good standard specification, with the option of a rear entertainment system and an excellent stereo for keeping its occupants happy on long journeys.
First car appeal

Even the most basic Allroad model has a number of features unlikely to be needed by a first car buyer, and the running costs may well be too high for someone purchasing their first car.
Quality and image

In terms of quality the Audi is near the top of the tree, with a very high standard of fit and finish throughout the car, as well as a number of high quality touches and good materials. Its image is also founded upon this high quality, in addition to discreet design and a high standard of build quality.
Accessibility

Gaining access to the Allroad is easy, particularly in models fitted with air suspension, which allow the ride height to be raised or lowered to suit the needs of the passengers. The door apertures front and rear are well shaped and generous, while the boot lid is wide and opens to give unobstructed access.
Stereo and ICE (In car entertainment)
Allroad models are fitted with a 10-speaker CD/tuner as standard, with a large screen display. The sound quality is very good indeed, and the steering wheel mounted controls are a useful feature.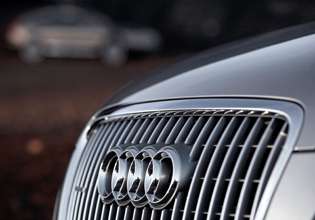 Imposing grille is unique to Allroad model
Colours and trim
Inside the Allroad shares much of its cabin with the regular A6 model, which means an excellent blend of plastics and fabrics. All the surfaces feel well finished and pleasant to touch, and the abundance of grey is offset by subtle red illumination and chrome.
Parking
Despite the Allroad's generous exterior dimensions, parking is relatively straightforward. Visibility is good, the generous bumpers should resist light bumps and the power steering provides maximum assistance at low speeds. Parking sensors are also available as an option.
Spare wheel
Deflated space saver spare mounted beneath the boot floor with compressor.
Range information
Four engine options: 3.2-litre petrol (253bhp), 4.2-litre petrol (345bhp), 2.7-litre diesel (178bhp) 3.0-litre diesel (230bhp). All mated to six-speed manual or automatic transmission with Tiptronic function, except the 4.2-litre petrol and 3.0-litre diesel which are automatic only. One trim level, with differing specification depending on engine choice.
Alternative cars
Volvo XC70 Sturdy and accomplished but visually dated
Alfa Romeo Sportwagon Q4 Stylish and individual, not an off-road vehicle
Subaru Outback Rugged looks and accomplished drivetrain, good value too
VW Touareg Taller SUV style but offers impressive on and off-road performance
Over 1,200 more car reviews online
All the reports since 1990 are available on this site, just search by make and model below.
Other products & services
Related information
June 2006