Audi A4 Cabriolet 2.0T FSI
May 2006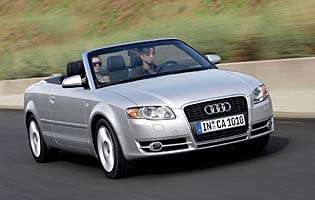 New family nose signals latest A4 Cabriolet
Ratings
Overall rating
Value for money
Costs
Space and practicality
Controls and display
Comfort
Car security
Car safety
Likes
Impressive build quality and attention to detail
Wind noise is low with the roof up
Room for two adults in the back
Boot is a decent size and space can be increased if you don't want to lower the roof
Gripes
Hood down refinement could be better as it can get noisy at speed
Using the wind deflector means the rear seats are out of bounds
Options list includes some items that should be standard on a car like this
Car a greater theft risk thanks to fabric roof - metal would be better
As iconic as they come, Audi's Cabriolet - today based on the firm's A4 saloon - has been a top choice for style-conscious buyers for many years. This iteration takes the sub-brand further in all areas: quality, driveability and desirability. However, some things never change because the car has retained the fabric folding roof format that other companies have dropped in favour of metal folding versions.
You won't get a mid-size premium convertible more desirable than Audi's A4 Cabriolet. That's not the hype talking, thousands of buyers can't be wrong in their choice over the likes of BMW's 3 Series Convertible and the Mercedes CLK drop-top.
The format has remained the same for a long time now, but Audi knows what people want and has sensibly left well alone. Four seats, a folding fabric roof and a decent boot all make up the A4 Cabriolet - and the 80-based original. This time, though, the car handles better, displays less body shake and can even be had in high-performance RS4 trim.
For most people, the fact that the Cabriolet looks like a drop-top A4 is good enough. Revisions for 2006 run to the now ubiquitous large, single frame grille that appears on all Audi models and a raft of improved engines. There's even a diesel option - something that Mercedes has so far shied away from.
But the real reason many people buy Audi's offering is because it looks stylish in an understated, classy way, and they look stylish when driving it. The roof mechanism is a proven one and, unlike cars sporting metal folding roofs, when retracted the Audi's cover doesn't rob you of all the boot space - only some of it. And crucially, you can get four people in the A4, making it practical as well as attractive.
Our verdict on the Audi A4 Cabriolet 2.0T FSI
There are sportier convertibles around than the A4, but few offer the same blend of practicality and style. Yes, the fabric roof appears to be going out of fashion, but there are packaging benefits with this technology. As such, the A4's boot is a reasonably good size and doesn't look like a box that's been casually grafted onto the A4's rear, plus car will accommodate four adults. Above all, this A4 looks good, is pleasant to drive, refined and spacious.
Costs

You'll pay plenty for the privilege of owning an A4 Cabriolet, but this is true of most cars in this premium sector - and don't forget to factor in a few choice optional extras. Running costs will vary depending on engine choice. Diesel is great for saving the pennies, while the FSI units prefer the more costly super unleaded petrol. Servicing, although based on a flexible programme, is on a par with compact premium saloons. Depending on your insurer, the fabric roof may influence the cost of your premium.
Space and practicality

Few four-door convertibles live up to the hype, but Audi's A4 is one of them. It will accommodate four adults, although you won't be able to use the wind deflector - when erected it straddles the rear seats. Elsewhere, the Cabriolet is like any other A4; oddment space is good, the door bins are a decent size and the cabin is wide enough so you rarely rub shoulders with fellow passengers. With the roof up, the boot is more than adequate. Space can be increased by flipping a lever and retracting the vacant roof's container - although you can't lower the roof once you've done this.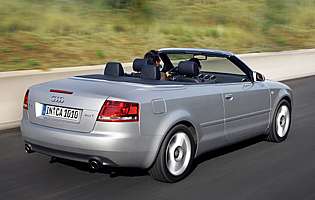 The A4's stylish rump hides a decent size boot
Controls and display

There are no major complaints here, as Audi constantly refines the knack of producing solid cabins and ergonomic controls. The main dials are pleasingly clear, with the colour display separating the dials a useful addition. The audio unit is placed high up in the fascia, with the major controls conveniently duplicated on the steering wheel. The only gripe concerns the climate control panel. Located low down the centre panel, a few rotary dials would be better than the numerous buttons required to change the temperature, direction and fan speed.
Comfort

Sitting in the A4 Cabriolet is like sitting in a regular A4 saloon, for front seat occupants at least. The seats, be they leather or fabric, are supportive - especially the sport versions. The driving position will adjust to suit most shapes and sizes, and headroom is good. Rear seat occupants get only modest levels of legroom, which could be a problem on long journeys. With the roof up, road and engine noise is minimal.
Car security

All the usual anti-theft devices are present on the A4, as you would expect of a car in this sector. The remote central locking works from a good range, and the remote boot release is a welcome bonus. Adding a visual deterrent, such as a steering lock, is recommended, as is a tracking device. The A4 is no Ferrari, but the Cabriolet has always been highly sought after. The only potential weak link is the car's fabric roof, which is easier to damage than a metal one.
Car safety

There are no surprises here, but the car's safety provision is nonetheless reassuring. As part of the package you get twin front and side airbags, plus the usual array of electronic stability controls plus ABS. Xenon headlamps can be selected, while the car's rollover protection consists of bars that pop up if onboard sensors detect an inversion is imminent.
Driver appeal

Although the A4 platform has improved enormously since its launch, this car still trails BMW's 3 Series in the enjoyment stakes. The cabrio feels usefully stiff despite the absence of a steel roof, though. It also comes with a number of good engines - especially the 2.0-litre FSI turbo petrol and diesel units. More a swift cruiser than outright performance car, the A4's steering boasts only modest levels of feedback. Worthy of note is Audi's continuously variable transmission (CVT), which is an excellent companion for the FSI turbo engine.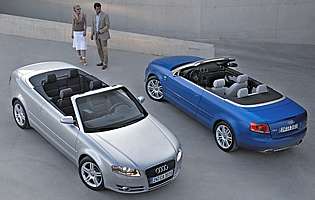 Interior build quality is impressive, and car looks great with the roof down
Family car appeal

The A4 is something of a surprise, as it will accommodate four adults. The two rear occupants will need to be reasonably flexible, but this situation does bode well if you have a growing family. Less impressive is the car's boot space. While enough for a couple, a pushchair and shopping will stretch the car's capabilities.
First car appeal

Setting aside price and running costs, the A4 Cabriolet is no more difficult or intimidating to drive than a regular medium size car. The controls are easy to use and, even with the roof up and after some practice, parking isn't that challenging. Factor in the asking price and running costs and it gets a little tricky. Unless you need the space or have pots of money, a supermini derived drop-top would be a better starter car.
Quality and image

Audi has worked hard in recent years to get to where it is now. Critics routinely praise the quality of its cars, while desirability levels show no signs of abating. Image-wise the company, and its cars, present a bold, masculine aura, something BMW did a decade ago and is a world apart from Mercedes' softer brand image.
Accessibility

The car's long doors certainly help to make accessing the front seats easy. Thankfully the roof is at a sensible height, ensuring you don't have to stoop too low to get in. Rear seat passengers have to clamber over the folded front seats to get in, but luckily they can be pushed well forward out of the way. To improve access, you can lower all four windows together, something that further aides rear occupants. The car's boot is a reasonable size and, like the A4 saloon, boasts a large loading aperture.
Stereo and ICE (In car entertainment)
The standard set-up in the A4 delivers a good sound and boasts an easy to read display. The major functions are duplicated on the steering wheel, and the centre display between the main dials highlights radio station, CD track and the like. Upgrades include a CD changer, handsfree telephone module and full colour sat-nav. All work well, especially the sat-nav thanks to a bright screen and intuitive controls.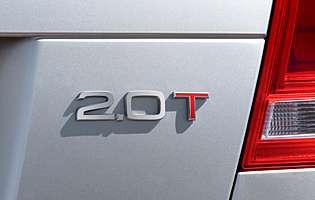 When connected to Audi's multitronic auto gearbox, the 2.0T FSI engine is smooth and refined
Colours and trim
Most exterior colours work well, although the traditional silver and dark blue metallic shades help to flatter the car. The same is true of the roof colour -care must be taken so the colour doesn't clash. The dark cabin can be lifted by a choice of light upholstery (preferably leather) although be mindful of its long-term durability.
Parking
The view forward from the A4's cabin is good, although the window pillars might cause you to duck and dodge around them when in a tight space. The view rearwards is not great with the roof up, as the wide rear pillars obscure your vision. Predictably, this all changes with the roof down. Parking sensors also make life easier.
Spare wheel
Space saver is fitted as standard.
Range information
Petrol engines - 1.8T (163bhp); 2.0T FSI (200bhp); 3.2 V6 FSI and 3.2 quattro (256bhp); RS4 quattro (344bhp). Diesel engines - 2.0 TDI (140bhp); 3.0 TDI quattro (233bhp). Five and six-speed manual, plus six-speed Tiptronic and seven-speed multitronic gearboxes fitted depending on the model. No trim levels as standard equipment levels are determined by engine type.
Alternative cars
Mercedes-Benz CLK-Class Convertible Well built, stylish and popular. Can be costly and isn't engaging to drive
BMW 3 Series Convertible Still the choice of keen drivers. Can suffer from a firm ride
Volvo C70 Boasts metal folding roof, good ergonomics and keen pricing. Not much fun to drive quickly
Saab 9-3 Convertible Popular Saab is distinctive and well built. Dynamically only middle-ranking here
Over 1,200 more car reviews online
All the reports since 1990 are available on this site, just search by make and model below.
Other products & services
Related information
May 2006