Audi A4 saloon RS4
April 2006
Aggressive exterior changes add bulk to the A4 shape
Ratings
Overall rating
Value for money
Costs
Space and practicality
Controls and display
Comfort
Car security
Car safety
Likes
Engine is powerful, tractable and sounds superb
Suspension strikes an excellent compromise between ride and handling
Interior is smart and well constructed
Seats offer a high degree of support
Gripes
Running costs are likely to be high
Initial purchase price may be too high for some
Steering can feel over-light at times
Satellite navigation not standard on a car at this price
The pinnacle of the A4 range, the RS4 joins a long line of high performance Audis. A step above the existing S4, the RS4 uses an even more powerful engine, the sophisticated quattro four-wheel drive system and aggressive styling modifications to create a highly desirable car.
From the outside the RS4 is easy to distinguish from lesser A4 models. At the front it gets piercing Xenon headlamps and a deep front bumper, with a pair of large air intakes either side. It also gets heavily flared wheel arches to accommodate 19-inch alloy wheels, and at the rear it has a pair of large bore exhaust pipes and a discreet boot spoiler. It all adds menace to the already taut A4 body shape.
Mechanical changes are centred around the engine. The 4.2-litre V8 is based on the engine that already in the S4, but with substantial modifications. The addition of direct injection and bespoke internal parts greatly increases the engine's output. This is transmitted to the road via a six-speed manual gearbox and into the quattro four-wheel drive system.
In this installation the four-wheel drive system is altered, splitting the power in a ratio of 40/60 front to rear. In addition, the bonnet and front wings are made of lightweight aluminium rather than steel, with both alterations made in order to improve the RS4's weight distribution and handling balance. The stiffened and lowered suspension also benefits from Audi's Dynamic Ride Control system, which interconnects diagonally opposite dampers for reduced body roll while retaining ride comfort.
Inside the RS4 gets stylish and supportive bucket seats with electronically adjustable side bolsters for maximum support. There is a high level of standard specification, including a Bose stereo system, climate control and the Sport mode, activated by a button on the steering wheel. This inflates the side bolsters on the drivers seat for extra support, activates a more direct programme for the accelerator and opens valves in the exhaust for improved sound quality.
Our verdict on the Audi A4 saloon RS4
Despite a high price tag, the RS4 impresses with its breadth of ability. It is no more demanding to drive than a more humble A4 and is just as comfortable, yet the quality of its chassis and drivetrain make it superbly entertaining when driven quickly. The characterful engine is a delight to use, and the four-wheel drive system makes the performance useable in all weathers.
Costs

One area where the RS4 may suffer is in terms of costs. The V8 engine will be relatively economical when driven with restraint, but insurance and the initial purchase price will require substantial financial commitment.
Space and practicality

The RS4 has a respectable amount of space for passengers both front and rear, although the bulkier front sports seats do impact on the amount of rear legroom. Headroom is good for front and rear occupants. The boot is also well sized, and the interior benefits from a decently sized glovebox and storage areas.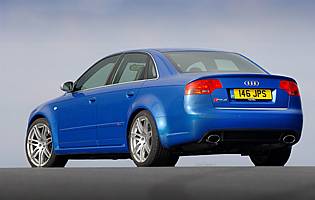 A pair of large exhaust pipes hint at the available performance
Controls and display

The layout of the RS4 is very good, with clearly labelled and easy to understand controls. The Multi Media Interface that operates vehicle, navigation and audio settings is also simple and intuitive, and the instrument graphics are clear and attractive.
Comfort

Despite the performance on offer, the RS4 is almost as adept at providing good levels of comfort for passengers. The Dynamic Ride Control allows suspension compliance over bumps, and although the ride is on the firm side, only the roughest of roads will cause a disturbance in the cabin. In addition, the sports seats fitted as standard in the front are very comfortable and supportive, with a large range of adjustment.
Car security

A Thatcham-approved alarm system is fitted as standard, and options such as double glazed windows and tracking devices give the potential for a very high level of security for a car this desirable.
Car safety

The RS4 has a very high standard of safety, with ABS, ESP and electronic brakeforce distribution as standard. Xenon headlights, tyre pressure monitoring are also useful features, while a strong bodyshell, seat belt pretensioners on all seats and a full compliment of airbags provide reassurance should the worst happen.
Driver appeal

Anyone willing to pay such a large sum of money for a car this size will demand driving excitement, and the RS4 provides it by the bucketload. Dominating the experience is the engine, which has a mass of low rev torque followed by high rev punch, all backed up with an amazing V8 noise. The brakes are mighty, the suspension is composed at all times and the grip on offer is superb. The steering sometimes feels a little light and lacking in feel, but this is at worst a minor issue rather than a major fault. In every respect, the RS4 delivers a thrilling drive.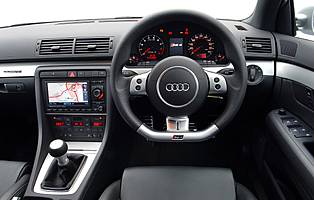 Well specified interior is attractive and easy to use
Family car appeal

The RS4 would make a very usable family car, with good space for passengers and luggage. It also has the refinement and comfort levels for long distance journeys without disturbing its occupants.
First car appeal

Although the RS4 requires no extra effort to drive, the amount of performance on offer and the expense of purchasing and running it would make it impractical for all but the most well-heeled first time car buyers.
Quality and image

Unquestionably the RS4 sets a high standard of quality. The understated interior and exterior design plus the use of excellent materials inside and out gives the overwhelming impression that it is a quality product. The RS4 builds on the image of the already desirable A4 with the RS badge, which has become synonymous with very high levels of performance. In a sector where image is crucial, the RS4 is not lacking.
Accessibility

With no compromises in terms of the body shape, getting into the RS4 is barely more challenging than in the regular car, with the exception of the heavily bolstered front seats requiring a little more effort. The boot aperture is also wide and uncluttered, with the option of automatic boot opening for even easier access.
Stereo and ICE (In car entertainment)
The RS4 is fitted with a Bose sound system as standard, which comprises of a single slot CD player and tuner with 10 speakers. The sound quality is excellent, and a noise compensation system accurately adjusts the sound level to match the amount of unwanted exterior sounds.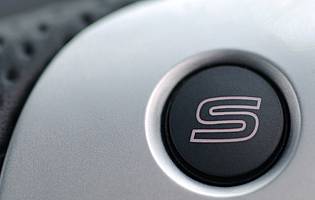 Sport button activates seat bolsters and faster throttle response
Colours and trim
Inside the RS4 impresses with its design. Although much of the interior is dark greys and blacks, there are lighter options, and the addition of flashes of chrome and silver trim plus the red illumination of the instruments and displays prevent it from feeling too dark. Leather trim as standard plus the use of smart plastics means high quality trim is used throughout the interior.
Parking
Standard front and rear parking sensors are a big help on the RS4, though good front and rear vision allied to light controls make it an easy car to park. The wide alloy wheels would be easy to kerb however, so caution is required when parallel parking.
Spare wheel
No spare wheel, tyre pressure monitoring, tyre inflator and sealant fitted as standard on RS4.
Range information
12 engine options: 1.6-litre petrol (101bhp), 2.0-litre petrol (128bhp), 1.8-litre turbocharged petrol (148bhp), 2.0-litre turbocharged petrol (197bhp), 3.2-litre petrol (252bhp), 4.2-litre petrol (339 and 414bhp). Diesels are 1.9-litre (113bhp), 2.0-litre (138bhp), 2.5-litre (161bhp) and 3.0-litre (230bhp). 1.6, 2.0, 1.8 turbocharged petrols and 1.9-litre diesel are fitted with five-speed manual gearbox, all other models fitted with six-speed manual gearbox as standard. Mutitronic or tiptronic auto gearboxes available on all models except 1.6-litre petrol, or whether specified with quattro four-wheel drive. Trim levels are standard, SE, S-Line, S4 and RS4.
Alternative cars
BMW M3 Coupe Sublime engine and chassis, six-cylinder car now feeling its age
Mercedes C55 AMG saloon No shortage of speed, but lacks sparkle
Porsche Cayman S Outstanding driving experience but coupe shape lacks space
Vauxhall Monaro VXR Thunderous V8 and low price, interior feels dated
Over 1,200 more car reviews online
All the reports since 1990 are available on this site, just search by make and model below.
Other products & services
Related information
April 2006