Nissan Micra 160SR
August 2005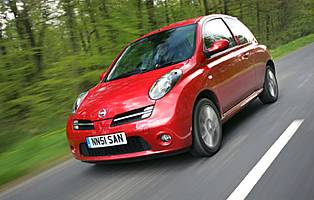 160SR is the fastest Nissan Micra in production
Ratings
Overall rating
Value for money
Costs
Space and practicality
Controls and display
Comfort
Car security
Car safety
Likes
Keen engine makes driving enjoyable and provides decent performance
Interior is durable and easy to use yet stylish
Sliding front seats boost practicality levels
Smart pricing, low insurance and economy mean good value
Gripes
Cute looks may not appeal to all
Clever 'Intelligent Key' system not available on this model
Image not as sporty as rivals
Many may not notice subtle facelift
While the market for high-performance hot hatches is buoyant, the demand for something desirable but less expensive is just as strong. The so-called 'warm' hatch is now a feature on most manufacturers' price lists, and Nissan has its own variant in the form of the Micra 160SR.
Available in three and five door versions the 160SR is clearly a Micra, but revisions to the exterior help to distinguish from lesser models. 16-inch gunmetal alloy wheels as standard benefit its looks as well as handling, while deeper front and rear bumpers plus side skirts and a tailpipe finisher complete the changes. It adds to the basic shape but avoids attracting too much attention.
On the inside there are more changes as well as extra equipment. Automatic lighting and wipers are standard, as are ESP and air conditioning. The 160SR also gets sports seats and aluminium pedals in-keeping with its sporting credentials, while the leather-covered steering wheel is pleasant to hold. While remaining as functional as a regular Micra, the extra details make the 160SR feel more special from behind the wheel.
The changes continue under the skin, with the fitment of a 1.6-litre four-cylinder petrol engine not used before by Nissan. This specially-developed engine uses sophisticated technology to deliver a healthy 108bhp while still providing impressive economy figures. A top speed of 114mph and a 0-60 time of 9.8 seconds means the 160SR is at least as quick as its rivals.
Nissan has changed the Micra's chassis to cope with the extra power, with the bigger tyres backed up by stiffer and lower suspension for increased grip. The steering has also been modified, increasing the weighting for improved feel. The end result is a good balance between handling and ride comfort.
Our verdict on the Nissan Micra 160SR
Although it may not grab as much attention as some of its rivals, the Micra 160SR manages to balance performance and economy, style and discretion, comfort and handling in a well-rounded package. With respectable running costs and the likelihood of good reliability, it should make a very satisfying sporting hatchback to own and to drive.
Costs

Even this sporty version of the Micra is cost effective. Capable of 42.8mpg on the combined cycle means small fuel bills. A low insurance group will also insure that your outlay is minimal. Nissan reliability is another positive feature; ensuring visits to the dealer will be of the scheduled kind.
Space and practicality

The low-set dashboard and high roofline allows a large glazed area, bringing more light into the cabin to create a feeling of space. This is backed up by the tape measure: front seat passengers have plenty of leg and headroom. Those in the rear seats have less room, though the headroom is still generous. The rear seats can slide lengthways as well as folding, allowing increased boot space or maximum legroom.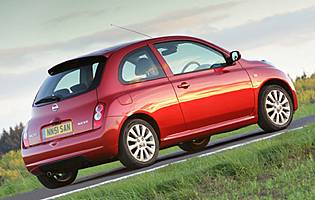 Styling features include 16-inch alloy wheels and a discreet bodykit
Controls and display

The 160SR gets grey and ivory instrument dials that look smart and are easy to read. The rest of the layout is very good in terms of clarity and ease of use. The trip computer has been moved from the dashboard to the instrument display, making it much easier on the move. Audio controls on the steering wheel are also a good safety feature.
Comfort

Stiffer suspension often means a firmer ride, and while this is the case with the 160SR, it still delivers a comfortable ride. Bigger side bolsters on the front seats offer extra support, and even rear seat passengers will be able to get comfortable.
Car security

Standard remote central locking with an anti-hijack feature makes the Micra a secure supermini, with a standard engine immobiliser fitted on all models.
Car safety

The top-spec 160SR benefits from six airbags as standard, along with seatbelt pre-tensioners and active front head restraints for a high level of protection. As with all Micras the 160SR gets anti-lock brakes, but in addition it gains ESP, reducing the likelihood of an accident.
Driver appeal

In standard form the Micra has wide driver appeal, as the combination of good visibility, a smooth engine and well-weighted controls provide a relaxing drive. In 160SR form, the increased power and flexibility of the engine provides more excitement, while the firmer suspension and steering deliver a more sporty experience. Despite this, more conservative drivers will find the 160SR just as easy to pilot as lesser-engined models.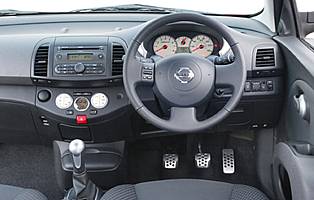 Sporty details like the aluminium pedals and leather steering wheel add appeal
Family car appeal

For a family with two small children the 160SR would have enough space and practicality to cope with everyday life, but those with older or more children may not be able to accommodate them all. However, with a clever glovebox and plenty of storage areas, the Micra can stow a good deal of oddments.
First car appeal

The Micra's friendly demeanour would make it far from intimidating for a new driver, and the driving experience is just as simple. The car's insurance group is two groups above the nearest Micra, but is low for a car of this performance.
Quality and image

Inside and out the Micra's quality is easy to see. The overall fit and finish is of a high standard, and looks like it will stand up to years of use. Image-wise the Micra is seen as a distinctly female car with sales figures backing it up, though the 160SR's appearance adds a dose of testosterone to its feel. It may not, however, have enough aggression to compete with some rivals more clearly aimed at the boy racer market.
Accessibility

On the three-door version the 160SR has very large door apertures, with the bubble-shaped roof and high seating position for easy access to the front. The front seats tilt and slide making access to rear straightforward.
Stereo and ICE (In car entertainment)
With a standard in-dash six disc CD changer and six speakers, the 160SR is well equipped for the class. Mounted high in the dash and clearly labelled, the stereo is easy to use, with a good output and respectable sound quality.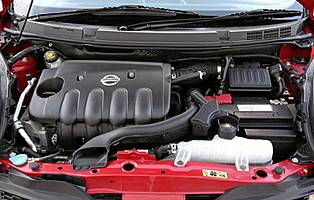 1.6-litre petrol engine delivers a useful 108bhp
Colours and trim
Although mostly finished in dark fabrics and plastics, the Micra's interior is pleasing to the eye. Touches like the silver gearknob and aluminium pedals add flashes of brightness, while the seat trim is attractive and looks hardwearing.
Parking
The Micra's generous glass area and compact dimensions make parking a breeze; with the bonus of the 'bubble' headlights to indicated the front of the bonnet. Although available on the SVE, parking sensors are not available on this model.
Spare wheel
Space saver fitted underneath boot floor.
Range information
Petrol engines - 1.2-litre (65bhp); 1.2-litre (80bhp); 1.4-litres (88bhp); 1.6-litres (108bhp). Diesel engines - 1.5 dCi (65bhp); 1.5 dCi (82bhp). Five-speed manual gearbox fitted across the range. Four-speed auto available on 1.2 and 1.4 petrol models. Trim levels: E, S, SE, SVE, Sport, 160SR.
Alternative cars
Ford Fiesta Not as well-built but Zetec-S model quick and engaging to drive
Citroen C2 Sharp-looking VTR variant has lots of youth appeal
Mini One Great image and chassis but engine is underpowered
Peugeot 206 XSi still fun to drive but feels old in comparison
Over 1,200 more car reviews online
All the reports since 1990 are available on this site, just search by make and model below.
Other products & services
Related information
August 2005