Volkswagen Polo SE 1.4 TDI 80 PS
July 2005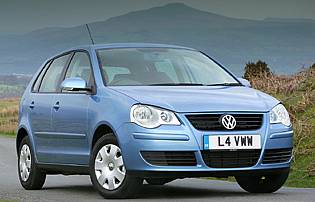 The new grille and headlights bring the Polo into line with the rest of the VW range
Ratings
Overall rating
Value for money
Costs
Space and practicality
Controls and display
Comfort
Car security
Car safety
Likes
Torquey engine provides good performance
Styling changes keep the Polo looking fresh
Good room for passengers and luggage
Classy image sets it apart from rivals
Gripes
Engine noise can intrude at idle or high revs
Some cabin materials are not as high quality as other VW products
Soft suspension and steering limit driver appeal
Dark interior is not livened up by coloured trim
With a host of more modern rivals and some newer cars in its own range, Volkswagen has spruced up its Polo supermini to take on the best in class. Building on the strengths of the existing model, it aims to bring more style and value for money to an already-popular car.
A first glance the car is instantly recognisable as a Polo, but the subtle exterior changes have brought the shape up to date. Part of its popularity stems from its dignified appearance, and the changes are more likely to pull in new buyers. It retains its classy looks, which help to distance it from its rivals and give it a loyal customer base.
Inside the changes are more limited, with new fabrics, instrument graphics and steering wheels. Some buyers may be slightly disappointed with the interior, as it does not feel as special as cars further up the VW range. It remains practical and easy to use however, and those trading up from and older or cheaper supermini are likely to relish the sturdy build quality.
Revised petrol and diesel engines give extra choice, with greater efficiency leading to more power and better fuel economy. While the new engines provide more performance, the Polo is better suited to urban and motorway driving than B-road driving thanks to the relatively soft suspension and light steering. These characteristics make it very easy to drive, making it a very good first car.
Despite the quality image the Polo is priced competitively, with the cheapest version undercutting key rivals by a significant margin. Standard equipment is also good, with ABS, central locking, twin airbags and power steering on all models.
Our verdict on the Volkswagen Polo SE 1.4 TDI 80 PS
Volkswagen has improved the Polo in all the significant areas, and its all-round ability gives it strong appeal to a wide range of buyers. It delivers everything that a car in this class should, with decent equipment, low purchase and running costs and ease of driving, yet combined with the typical VW values of quality and understated style. Enthusiastic drivers may be disappointed, but all other buyers will be getting a highly competent supermini.
Costs

Variable servicing dependent on vehicle use means those covering lower mileages will benefit from even lower running costs, as some models can cover 30,000 miles between inspections. The 1.4 TDI tested here can deliver a combined fuel economy figure of 61.4mpg, making it exceptionally economical. Low insurance groupings also contribute to low running costs, and this reflects Volkswagen's efforts to reduce accident repair costs.
Space and practicality

Inside the Polo is one of the biggest small cars in its class, with generous headroom even with the high seating position. Front seat passengers also have plenty of legroom. In the rear, headroom is also good, and although there is less legroom for back seat passengers, only those sat behind very tall passengers will suffer. The boot is well shaped with a low loading lip and minimal intrusion from the rear lights, and with a 270 litre capacity with the seats up it will be enough for most needs. Inside there are many storage areas of various shapes and sizes, including a fair sized glovebox.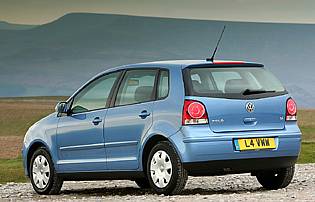 New lights and a revised bumper complete the changes at the rear
Controls and display

The simple design of the dashboard with clear markings makes it easy to use, with most of the controls grouped in the centre console. The instrument dials are classy, thanks to the silver bezels, and the white markings on a black background are clear and easy to read. Higher specification models also get a trip computer mounted between the instruments, which provides a range of useful information.
Comfort

For a small car the Polo rides well. The soft suspension does a good job of soaking up most road imperfections, though larger bumps are felt in the cabin. Generous front seats, with height adjustment for driver and passenger on this model, provide good support, and even the rear seats provide sufficient comfort for long journeys.
Car security

The standard fitment of an engine immobiliser and central locking give even the base model Polo a respectable level of security, while the S models upwards also benefit from an anti-hijack system. All the standard fitment stereo units are double sized to make fitment impossible in other vehicles, and are security coded.
Car safety

Improvements to the Polo's structure add stiffness to the bodyshell, which should result in a further-improved crash performance. Safety features include twin front airbags as standard, with the option of curtain and side airbags. All models have ABS fitted as standard, while ESP is available as an option.
Driver appeal

In diesel form the Polo is shown in its best light, as the torquey engine suits the car's relaxed nature. Surging past slower traffic is satisfying, and the five-speed gearbox is light, if a little notchy. Driven with more enthusiasm however, and it is less willing to join in the fun. The soft suspension keeps it in touch with the road, but body roll is the inevitable result. The brakes are strong enough, and although the steering is well weighted it lacks much feel, encouraging you to drive at a more moderate speed.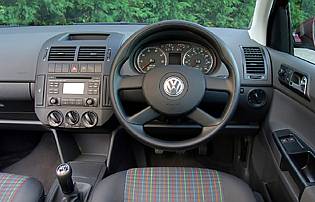 Minor changes to the interior include new seat fabrics and instrument graphics
Family car appeal

In five-door form the Polo would make an excellent family car, although a family with more than four members might find it too small for their needs. Two Isofix mountings are fitted as standard, with the option of an integrated child seat and deactivation of the passenger side and front airbags.
First car appeal

With an insurance group of 5E even for this relatively powerful diesel model, the Polo makes an excellent first car. The well weighted controls and good visibility make it easy to drive, the frugal engine will keep running costs down, and the Polo's popularity and good residual values should make it easy to sell on.
Quality and image

This is one area where the Polo excels against its rivals. Although the Polo sets a high standard of quality in its own right, the image of its bigger sister models like the Golf and Passat filter down, making it a default choice for some buyers. Its image tends to distance it from other cars in this sector, and as such previous models have proved to be less popular with younger buyers.
Accessibility

With a high roofline and solid, chunky door handles, gaining entry to the Polo is effortless. Rear seat passengers are just as well catered for, though on three door models only the SE and Sport models get a sliding front seat for easier access.
Stereo and ICE (In car entertainment)
Upgraded from the previous model, the Polo's standard fitment stereo system is a radio and CD player with eight speakers. Well-labelled buttons and a reasonably sized display make it easy to use, while the sound quality is of a good standard.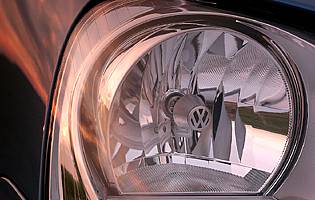 Small details like this badge in the headlights give the Polo an air of quality
Colours and trim
The quality of the Polo's interior appears to be good, although some components do feel relatively cheap to touch. Despite this, the interior is well constructed and would stand up to many miles of hard use. The abundance of grey inside is a downside, and the coloured seat fabric appears garish in contrast.
Parking
A short rear overhang makes reversing into spaces straightforward, with a clear view around the car from all the interior mirrors. Parking sensors are an option on all models.
Spare wheel
Full size spare tyre fitted on a steel wheel mounted under the boot floor
Range information
Four engine options with a choice of power outputs - 1.2-litre petrol (54bhp and 63bhp), 1.4-litre petrol (74bhp, 85bhp FSI and 99bhp), 1.4-litre TDI (69bhp and 79bhp) and 1.9-litre TDI (99bhp and 128bhp). All are fitted with five-speed manual gearbox except the 128bhp TDI that has a six-speed manual as standard. An automatic gearbox is available on the 1.4-litre 7bhp petrol model. Trim designations start at E, then S, SE and Sport.
Alternative cars
Ford Fiesta Not as good to look at, but fun to drive
Vauxhall Corsa Popular choice at a low price, soon to be replaced
Peugeot 206 Strong diesel engine and good to drive, though feels dated
Nissan Micra Distinctive styling, well built and refined
Over 1,200 more car reviews online
All the reports since 1990 are available on this site, just search by make and model below.
Other products & services
Related information
July 2005