Audi A4 Avant 2.0T FSI S line
June 2005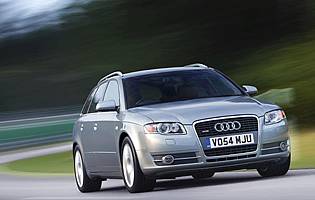 Striking A4 Avant is both stylish and practical
Ratings
Overall rating
Value for money
Costs
Space and practicality
Controls and display
Comfort
Car security
Car safety
Likes
High levels of cabin quality easily beat the competition
Huge choice of different engines and transmissions
Now a much more enjoyable and rewarding car to drive
Four-wheel drive is a useful addition to the car
Gripes
Bewildering options list is long and potentially costly
Multitronic CVT gearbox is a disappointment
Corporate front end styling makes the A4 look like Audi's A3 from a distance
Petrol engines overshadowed in the economy and performance stakes by the diesel
The 'posh roader' craze might have polarised choice in the large executive car sector, but there's a lot to be said about the merits of estate cars in the compact premium market. Saloons are all well and good but not half as practical as buyers would like them to be. Audi's A4 Avant range has been one of the more popular choices, and this version boasts some welcome improvements over its predecessor.
Audi's upward change in fortune in recent years has seen the car maker become a more credible rival to BMW and Mercedes. Previously, dull designs and even duller handling forced the firm to play second fiddle as a 'nearly' company.
The regular arrival of new products, each one better than the last, has forced critics and buyers to think again; Audi's previous generation A4 was something of a watershed car thanks to its improved dynamics and impressive interior.
This was followed by the larger-than-the-competition A6 and the model discussed here: the latest generation A4. In Avant guise - Audi's decidedly upper class way of describing an estate - the car is as much a sports wagon as it is loadlugger. It might not rival a big Volvo for space, but for occasional heavy use it copes admirably.
Equally important is the car's ability to perform like the A4 saloon when you want to have fun. Luckily for Audi the A4 Avant succeeds. In fact, for some people it will prove more appealing. A V6 diesel Avant complete with quattro four-wheel drive could be the perfect premium, all-weather vehicle.
Our verdict on the Audi A4 Avant 2.0T FSI S line
It might not offer the raw riving thrills of a BMW 3 Series or the elegance of Mercedes' upper class C-Class, but Audi's A4 Avant is a sensible, balanced alternative. Its clean lines, impeccable interior, sporty handling and solid engineering have attracted many buyers. Factor in the Avant's added versatility and you've got very desirable car.
Costs

The A4, despite the often attractive screen prices, is not a cheap car. The reason? The options list is long, very tempting and host to some nice but costly items. Spec a car sensibly and you can positively influence its resale value, though. If you do a lot of miles a diesel will make more sense The cars have a good reputation in terms of reliability, making unscheduled and potentially costly garage stops rare.
Space and practicality

Revisions to the bodyshell have liberated a little more room for all occupants, which is most welcome over the older generation car. Front seat occupants probably won't notice a huge difference but back seat passengers will - at last there's a reasonable amount of head and legroom in an A4. The Avant's split/fold rear seat is most useful, as is the load bay's almost flat floor with everything folded down. Up front, there are plenty of places in the cabin to deposit sweets, maps and mobile phones.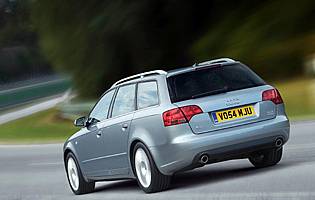 Elegant rear masks a versatile loadspace
Controls and display

Audis have come on in leaps and bounds in recent years, and the latest cars' instruments and controls display a clarity and simplicity that's often lacking in rival machines. Everything works with a well-oiled efficiency, while the optional sat-nav boasts a large, clear screen and intuitive controls.
Comfort

For a supple ride you should opt for the SE specification - the S line will be too firm for some people and something of a compromise if you spend a lot of time around town. Ditto with the front seats, as the S line models come with figure hugging items. Engine noise is pleasingly low - even from the diesels once they've warmed up - leaving you with only the background hum of wind and tyre noise to contend with. A little bigger than previously, the A4's cabin does well to accommodate adults of various sizes, with only rear legroom a little disappointing if you're taller than average.
Car security

Given the car's desirable status, Audi has equipped the A4 with remote controlled locking and a Thatcham Category One anti-theft device. A visible vehicle identification number (VIN) can be seen at the base of the windscreen. Being an estate, the car's load cover is a suitably sturdy item. Notable options include a storage pack that includes under-seat trays - ideal for keeping valuables out of sight.
Car safety

As you would expect, all A4s come equipped with high levels of safety kit. Twin front and side front airbags along with curtain airbags are standard fit. You can also add ABS, traction and stability control, electronic brakeforce distribution and a seat belt reminder to the list. Safety-related options run to the likes of rear passenger side airbags, adaptive headlamps, which are only available with xenon lamps, an auto dimming rear view mirror and rear Isofix mounting points for child seats.
Driver appeal

Much improved over previous generation A4s, this model is more fun to drive quickly and more accomplished over undulating Tarmac. In S line trim it will still jar and cause a little discomfort over poorly surfaced roads, but the trade off is more driver feedback and handling closer to that of a 3 Series and C-Class. The firm's quattro four-wheel drive option works well, either in poor weather or if you want to have some fun. As for engines, the 2.0-litre FSI Turbo petrol unit is a good V6 substitute, while the diesels aren't short of any poke either.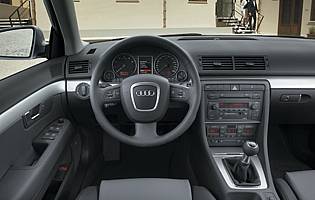 Fit and finish in the A4 Avant's cabin is exemplary
Family car appeal

A growing family would be better off in a more versatile people carrier - Renault's Scenic, Volkswagen's Touran and Honda's FRV all make more sense. That said, the A4 Avant will swallow awkward loads with less fuss if you don't mind sacrificing a little cabin flexibility. The rather nice but expensive leather upholstery options are best avoided if you have small children or pets.
First car appeal

Realistically the A4 Avant - or any A4 - is hardly an ideal first car. It's not cheap to buy, making insurance costly, and young novice drivers would have more fun in something from Volkswagen, Skoda or Seat. If you get presented with an A4 as your first company car however, at least it is easy to drive and park.
Quality and image

Exceptional levels of fit, finish and attention to detail have become an Audi trademark and the A4 Avant continues that trend. The car feels like it will go on for years and Audi in general is viewed by many as the leader in this field, surpassing long-time favourite Mercedes. On a wider scale, Audi may be successful but it doesn't shout about in the same way BMW does, which is another reason why more people are taking a second look at the four-ringed brand.
Accessibility

Front seat occupants won't have to struggle to gain access or exit the cabin. Rear seat passengers have to, predictably, make do with a smaller door aperture, although getting in and out won't be a hardship if you're reasonably flexible. The A4 Avant's tailgate requires little effort to raise or lower, and the boot floor is low and wide enough to make loading/unloading easy.
Stereo and ICE (In car entertainment)
Disappointingly the radio/cassette player is a feature of base model A4s, but it's likely that such a car won't be that popular. SE and above specification thankfully comes with a CD-player as standard. Better systems can be selected from the options list, including a six-disc CD changer incorporated into the head unit and an impressive DVD-based sat-nav system. While costly, the high-spec sat-nav is easy to use and view thanks to its crisp, large colour screen.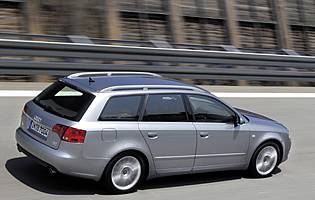 Revised A4 Avant is more enjoyable to drive than its predecessor
Colours and trim
No surprises for guessing that silver is a good colour for the A4 - it's always been this way thanks to its flattering properties. Bright reds and blues don't carry the same prestige weight. Inside the cabin is predominately black, but the gloom is lifted by silver, carbon fibre or wood inserts. The latter is not that convincing, though.
Parking
Parking is relatively easy thanks to good levels of visibility - it is an estate car after all. Steering is exceptionally light at low speeds, which is a good thing. Reversing the Avant is easier than the saloon because you know where its tail ends. Fore and aft parking sensor make the job even easier, and these can be found on the Audi's options list.
Spare wheel
Standard size spare fitted across the range.
Range information
Petrol: 1.6(102bhp); 2.0(130bhp); 1.8 turbo (163bhp); 1.8 turbo quattro (163bhp); 2.0FSI turbo (200bhp); 2.0FSI turbo quattro (200bhp); 3.2V6 FSI (256bhp); 3.2V6 FSI quattro (256bhp). Diesel: 1.9TDI (115bhp); 2.0TDI (140bhp); 2.5TDI (163bhp); 3.0V6 TDI quattro (204bhp). 5 & 6-speed manual transmissions are standard depending on model. V6 FSI engine comes with 'multitronic' CVT auto box - an option on selected models. Also optional is a conventional six-speed auto. All cars are front-wheel drive unless in quattro four-wheel drive spec. Trim levels: base, SE and S line.
Alternative cars
BMW 3 Series Touring Great driver's car and reasonable loadlugger. Styling won't appeal to all tastes
Mercedes-Benz C-Class Estate Revamp has made C-Class more fun to drive. Still looked on as the more mature choice
Jaguar X-Type Estate Cabin build quality has improved since launch and diesel options are impressive
Honda Accord Tourer Executive class interloper - outstanding quality, spacious and refined
Over 1,200 more car reviews online
All the reports since 1990 are available on this site, just search by make and model below.
Other products & services
Related information
June 2005