Audi A6 Avant 2.7 TDI SE
April 2005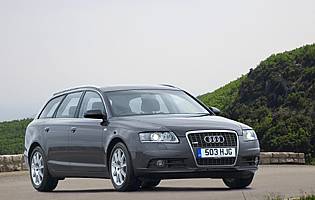 Bold grille marks out the A6 Avant as something special
Ratings
Overall rating
Value for money
Costs
Space and practicality
Controls and display
Comfort
Car security
Car safety
Likes
Elegant exterior design masks the car's size well
Practical load bay offers a number of different storage options
Spacious cabin easily accommodates four adults in comfort
Diesel engine line-up is impressive
Gripes
CVT gearbox will disappoint if you plan on driving enthusiastically
Mind-boggling selection of options - difficult to know where to start
Clever boot dividers should be standard on a car like this
2.4 petrol engine feels underpowered, while 4.2 V8 is an expensive luxury
Not everyone is keen to swan around in a big SUV, which is why cars like Audi's A6 Avant exist. But while the executive estate is no stranger to lugging loads, it manages to do it all with more than a pinch of style. The latest variant borrows the Audi corporate nose and is blessed with a level of driver involvement that has been sadly absent from previous A6 generations.
For people who don't want a premium sports utility vehicle (SUV), there's always the executive estate. It might not be as fashionable as it was before the arrival of posh 4x4s, but for anyone who eschews a flash image in favour of something more restrained cars in this sector are worth a look.
Not that you'll be spoilt for choice, though. If you don't want an aging Saab or a less than exciting Volvo, the choice inevitably falls between BMW's radical-looking 5 Series Touring and Mercedes' more elegant E-Class Estate. And then there's Audi; it's always offered something slightly different with its quattro four wheel drive and this variant continues the 'other' German firm's theme of being the self-confessed intelligent choice.
Only this model also strikes a clever balance between the BMW and Merc in terms of exterior styling. Its gracious curves hide the fact that it's bigger than both its main rivals, while the extrovert corporate nose is Audi's way of saying that it wants to get noticed - but in a grown-up, corporate kind of way.
From the load bay forward it's pure A6 saloon though, which means above average cabin space, high levels of fit and finish, great ergonomics, an impressive range of diesel engines and an options list that's as long as your arm. Above all else, the A6 is now enjoyable to drive enthusiastically - which is not something that can be said about previous models.
Our verdict on the Audi A6 Avant 2.7 TDI SE
Audi's self-confessed desire to lead the executive sector takes another step closer with the A6 Avant. Premium load luggers have been overtaken by SUVs as the expensive car of choice for many, but the A6 oozes class yet is capable of hauling your belongings with consummate ease. Balancing elegance with look-at-me exterior design, Audi's big estate hides its substantial girth well.
Costs

While the A6 Avant costs a considerable sum of money, what you get is a car that's feels built to an incredibly high standard. Its image is difficult to quantify in monetary terms but for many buyers this reasoning helps to offset the cash outlay. Opting for a diesel will help reduce your running costs, as will taking it easy with the options list in the first place. Audi's reputation is such that visits to the dealership are likely to be only for routine checks.
Space and practicality

With the split/fold rear seats down the Avant boast 1,600 litres of space, ensuring that it's one of the most accommodating cars in its class. The boot floor can be configured to accept optional dividers that slot into special rails, while the floor can be raised and used as a partition to help prevent cargo from rolling around. That the car will swallow a cycle on a specially developed rack proves it's more than just a posh estate car. Elsewhere in the cabin, regular occupants will have little difficulty getting comfortable thanks to the increased amount of legroom. In contrast, door bins and the glovebox are only modest in size.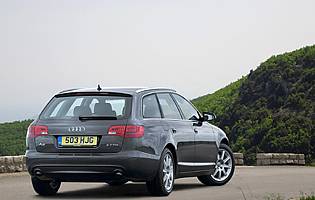 Elegant rear design does a fine job of disguising the car's size
Controls and display

Audi has made great advances in recent years with its controls and instrument. The A6 confirms the fact that the firm's design and ergonomic philosophy is one of the best around. All the main dials are large, clear and easy to read, while switchgear is where you expect it and operates with a high quality feel that matches the car's price tag. The car's trip computer is comprehensive, as are the various main display options available through the MMI (Multi Media Interface). Although a little baffling at first, its various modes soon become familiar. Also, the MMI's screen is one of the clearest around.
Comfort

Being larger than your predecessor has its advantages, as there's noticeably more room in the Avant's cabin thanks to an increase in width and wheelbase. Also, general refinement levels are up, which means you experience less wind and engine noise. The car's front seats, be they the standard or sports items, are supportive but never too firm, while the driving position should suit pilots of wide ranging sizes thanks to a wide range of column adjustments.
Car security

There's no question that the A6 is a desirable car. Just as well, then, that it comes with anti theft system comprising interior movement sensors and an anti-towaway detector. The complete system is Thatcham Category One approved. The Avant also boasts a rather sturdy retractable cover for the load area.
Car safety

Cars at this price point are rarely sent out with just the bare minimum of kit. The A6 Avant is no exception, as it comes with twin front, side and curtain airbags. Also standard are Isofix child seat mounting points plus anti-lock brakes and a number of traction and stability systems. Extra cost equipment includes more powerful Xenon headlamps and an adaptive option that moves with the steering.
Driver appeal

Not so long ago Audi was often mocked for delivering sporting cars that were less than enjoyable to drive. After the glory years of the quattro it looked like the firm had lost its way. The latest A4 has shown that the situation is now much better. The A6 takes another promising step forward; while the steering and brakes could offer more feel, the overall package is good. The Avant is an eager performer despite its size, and the experience is boosted by some seriously torquey diesel engines, quattro all-wheel drive and the firm's smooth-shifting Tiptronic auto gearbox on selected models.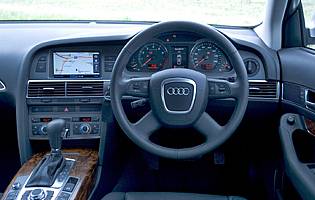 Build quality and ergonomics are impressive
Family car appeal

Estate cars are no longer perceived as sensible family cars what with so many opting for people carriers or 4x4s. While less showy than the latter the A6 Avant can't match the former for clever seat folding systems. But if you want a sensible, classy car with enough room for two growing children and plenty of bootspace, the A6 is more than adequate. You might want to skip the leather seats if you have very young children or pets to transport, though.
First car appeal

A big car like the A6 Avant is hardly the best choice for a novice driver, no matter how much money you've got to spend. It's a big machine and requires a sensible approach if you're new to driving. With even the lesser models possessing a reasonable turn of speed, keeping one eye on the speedo is recommended.
Quality and image

In recent years Audi has attempted to create a new, higher class of image for itself. Helped by slick marketing and desirable products, the firm's efforts have paid off big time. That fit and finish now shades many of its rivals is the icing on the cake. Although still not considered to be purveyors of serious sporting cars - BMW still holds that crown - Audi is working on that, too.
Accessibility

Being a conventional estate car, there's never a need to step up into the A6 Avant like you would in an SUV or people carrier. Once inside there's plenty of room and occupants are unlikely to feel cramped. Access to the rear could be a little better as the doors don't open terribly wide, but that's about it. At the back, the tailgate does open up nice and wide with minimal effort to reveal and large, flat load bay. There's also the option of powered tailgate.
Stereo and ICE (In car entertainment)
Standard fit is a single CD /radio unit, with its functions displayed on the excellent MMI screen. CD changers, higher quality audio kit and sat nav are all options, with the latter very easy to programme. The more powerful audio options really do make a difference in the cabin, as the extra power is noticeable but not distracting. Steering wheel-mounted controls help you navigate certain basic functions, and there's a mini display mounted between the main dials that shows radio station, sat-nav instruction and the like.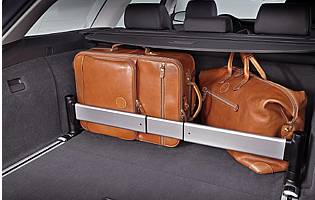 Clever dividers ensure that everything stays put when on the move
Colours and trim
You can't go wrong with a silver Audi, and the A6 Avant is no different. That said, darker metallic hues give the car an added layer of respectability. The chrome trim around the grille only adds to the executive experience. Inside it's as you would expect from Audi; modest slivers of chrome and wood abound, while the optional leather upholstery looks expensive - because it is.
Parking
It may not feel it from the inside but make no mistake, the A6 Avant is a big car. Thank goodness that the steering lightens up for parking, making the job of manoeuvring the car relatively straightforward. Forward visibility is good, but rearwards the view is easily obscured by backseat occupants. At least fore and aft parking sensors appear on the options list, although there's no reason why they shouldn't be standard on the more expensive variants.
Spare wheel
Full size spare fitted as standard.
Range information
Available engines consist of 2.4 V6 petrol (177PS); 3.2 V6 petrol (255PS); 4.2 V8 (335PS); 2.7 V6 TDI diesel (177PS); 3.0 V6 TDI diesel (225PS). quattro-badged models ( not 2.4 petrol or 2.7 diesel) feature Audi's famous all-wheel-drive system, which is standard on 3.0 TDI and 4.2 V8. Transmission options include six-speed manual, six-speed Tiptronic automatic and a seven speed continuously variable Multitronic automatic gearboxes depending on the model chosen.
Alternative cars
BMW 5 Series Touring More sporty to drive than A6 but styling not universally liked
Mercedes E-Class Estate Capacious and elegant but built more for comfort than speed
Volvo V70 Lacks the badge appeal of its German rivals but no less practical
Saab 9-5 Estate Getting on a bit and can't match the A6 for overall refinement
Over 1,200 more car reviews online
All the reports since 1990 are available on this site, just search by make and model below.
Other products & services
Related information
April 2005