Audi TT Coupe 1.8T Tiptronic
April 2005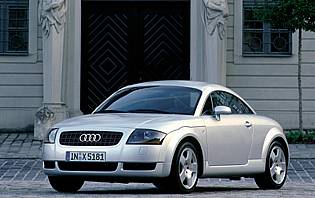 Only the lack of quattro badge distinguishes the front-drive model from other TTs
Ratings
Overall rating
Value for money
Costs
Space and practicality
Controls and display
Comfort
Car security
Car safety
Likes
Styling has stood the test of time
Car boasts broad appeal despite its racy image
Cabin is surprisingly comfortable despite its compact dimensions
Front-drive TT is unexpectedly adept tourer
Gripes
Rear seats are for effect only
1.8 turbo engine is gruff and tuneless
Despite V6's sporting pretensions, it's no Boxster challenger
Boot aside, cabin storage space is on the modest side
Hailed as a style icon when it was first launched, Audi's TT has gone on to become one of the most popular sports coupes on recent years. While there will always be a place for the traditional models from the likes of BMW and Mercedes, the TT's bold looks ensured that it would always be in the public eye.
Launching the TT was a bold move by Audi; at the time the firm was more famous for building conservative but technically solid cars. Few people expected the car to take off like it did but buyers couldn't resist its radical exterior and equally startling interior.
The TT's look was from another planet - a real showstopper. More of an experience than just a car, Audi's compact coupe offered buyers a real alternative to the conservative 3 Series and similar rivals. Being smaller and less accommodating than the BMW the TT forced buyers to compromise, which they duly did to own a car that made pedestrians stop and stare.
It's true that you have to make a few sacrifices when owning a TT, but owners swear that it's worth it. Some critics liken the driving experience to that of living in a goldfish bowl, and while it's true that you tend to look out from inside the cockpit onlookers are just as likely to look in.
For many the driving experience is secondary to the attention gained from piloting such a car. It's fair to say that the TT is no Porsche Boxster in the handling stakes. It's no 3 Series either but it can be hustled along with little effort. As with so many Audis of its time the TT doesn't offer much in the way of feedback, but that doesn't mean it's a bad car. The rapid 3.2 V6 banishes such thoughts in an instant, while the entry-level front-wheel drive model is great if you want the looks but don't much care for outright speed.
Our verdict on the Audi TT Coupe 1.8T Tiptronic
While form doesn't completely dominate function with the TT, it's true that there are sharper handling cars on the market. This hasn't stopped Audi's dramatic-looking coupe from being the car of choice for thousands of buyers. Radical when it first appeared and still impressive years after its launch, the TT strikes a solid balance between 'look at me' styling and brisk performance for the everyday driver.
Costs

Combine the purchase cost plus any extras you may choose - and there are many - and it's easy to get carried away and spend more money than you originally bargained for. Keep the buying process simple and your 'investment' should hold a reasonable slice of its value. Fuel economy isn't too shabby with the TT thanks to its frugal if characterless 1.8 petrol motor - the V6 is a slightly different matter. Routine servicing should be just that, but if used enthusiastically tyres and other consumables could prove costly to replace regularly.
Space and practicality

For a car that puts driver enjoyment and style above all else, the TT is surprisingly practical. Sure it's no family estate, but the modest boot is bigger than it first seems and, if utilised intelligently, the small selection of cubbyholes in the cabin prove their worth on long trips. Look past the TT's low-slung cabin access and living with the compact Audi will be easier than you think.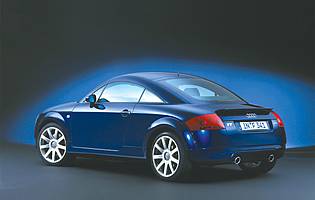 Pert rear of the TT hides a modest but useable boot
Controls and display

As with all modern Audis, there's little to complain about when the discussion turns to controls and displays. The main instruments are clear and concise, while the minor controls fall easily to hand - something worth remembering when you're driving a car built to go quickly. If there is one concern, it's that the red illumination of the various dials can prove a little hard to see when driving at night. Soft white backlighting would have been a better, and less tiring, choice.
Comfort

For a car clearly set up to deliver a sporty experience, the TT is surprisingly comfortable. Getting in and out requires a little effort, but once seated the driving position is more than adequate and boasts a decent range of adjustment. Ride comfort is also good despite the car's focus on delivering a sporting experience; the only thing worth avoiding are big optional alloy wheels and urban undulations. If there is a gripe, it's that the engine sounds rather unsporting and disappointingly gruff.
Car security

The TT is as desirable as they come, which is why it's comforting to know that you get remote central locking plus an anti-theft system boasting sensors inside the cabin. For added protection against theft the car's VIN is visible from the outside, although registering the TT with a tracking firm would also be a sensible precaution.
Car safety

Twin front and side airbags come as standard on the TT Coupe, with Isofix mountings for child seats thrown in for good measure. ABS is also standard, and is joined by the usual add-ons such as extra stability and traction gadgets. Models fitted with Audi's quattro four-wheel drive system gain an added level of help.
Driver appeal

The TT is not just a pretty face but a car that's been engineered to thrill both driver and passenger. In the main the car scores well; all but the entry-level models are seriously powerful and rapid and the quattro-equipped cars really do stick to the road. You don't get quite the same feeling from the front-wheel drive model, but when equipped with the Audi's optional six-speed Tiptronic auto gearbox it prefers brisk cruising to ripping up the Tarmac. If that's not enough there's also the firm's rapid V6 model. It may lack the raw speed of Nissan's 350Z but it's more refined on long drives.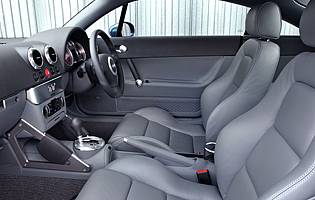 The clever detailing in the cabin help lift the otherwise sombre mood
Family car appeal

The TT is as much a family car as Toyota's Previa is a thoroughbred racing machine. Put simply, the TT is as child unfriendly as it gets. Boot space is minimal and you can only take one passenger, ensuring that the stylish Audi is relegated to second car duties in a busy family household.
First car appeal

The TT is not a car that lends itself well to being a first steer for newly qualified drivers. It's quick, boasts less than ideal visibility and, in quattro guise, can give the novice pilot a false sense of security. Even if you could afford one, the car's profile is such that obtaining insurance could be a challenge.
Quality and image

Top marks to Audi for being brave enough to make a car like the TT, but it should also be commended for cultivating the car's style-conscious image so well through the medium of advertising. As for quality, the car feels exceptionally well built and the cabin is full of high quality, tactile materials.
Accessibility

Top marks to Audi for being brave enough to make a car like the TT, but it should also be commended for cultivating the car's style-conscious image so well through the medium of advertising. As for quality, the car feels exceptionally well built and the cabin is full of high quality, tactile materials.
Stereo and ICE (In car entertainment)
In something of a disappointment, standard fit is a radio/cassette unit. As per usual, this can be upgraded for a price to a combined CD unit. From here you can also opt for a disc changer, CD-driven sat-nav and improved sound systems. Given the dimensions of the coupe's interior, the sound quality is quite good, and is noticeably better when the optional premium system is selected.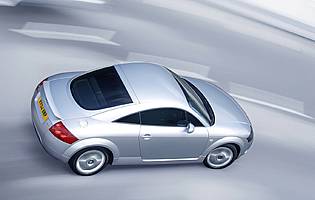 Still fresh-looking years after its launch, the TT is a handsome beast
Colours and trim
Judging by the number of silver TTs in existence, this metallic hue is probably the most popular by a considerable margin - thank goodness it looks good on Audi's curvaceous coupe. The TT looks good in most of the colours offered, although light shades can take the premium shine off the car. Inside, the TT is typically sombre like most Audis, although the few chrome accents dotted around the place help to lift the mood.
Parking
With no parking sensors on even the options list, you'll have to fend for yourself. Luckily the car's mirrors offer a decent view rearwards, but the car's squat stance ensures that you'll have to be careful when parallel parking. As a car with thick rear pillars, the over-the-shoulder view could be better - which is why you'll need plenty of practice and learn to trust the external mirrors. At least the steering offers little resistance during low speed manoeuvres.
Spare wheel
Space saver fitted as standard. The V6 variant sacrifices a spare wheel for Audi's 'Tyre Mobility System'.
Range information
Three engine options - all petrol: 1.8-litre Turbo (180bhp); 1.8-litre Turbo (225bhp); 3.2-litre V6 (250bhp). Six-speed manual gearbox and quattro four-wheel drive standard on all models except entry-level 180bhp model, which is front-wheel drive and comes with a five-speed manual gearbox (six-speed Tiptronic auto a cost option). A six-speed Direct Shift Gearbox (DSG) is optional for the 3.2 V6. Trim and equipment levels are decided by engine option.
Alternative cars
Nissan 350Z Coupe Rapid Nissan is a more focused sports car but its cabin is a little rough around the edges
BMW 3 Series Coupe Conservative but immensely popular coupe
Mercedes-Benz C-Class Sports Coupe Merc coupe not as polished as the 3 Series
Hyundai Coupe Cheapest here by a country mile. Unlikely to appeal to prospective Audi buyers, though
Over 1,200 more car reviews online
All the reports since 1990 are available on this site, just search by make and model below.
Other products & services
Related information
April 2005