Citroen C3 XTR 1.4-litre HDi 16-valve
April 2005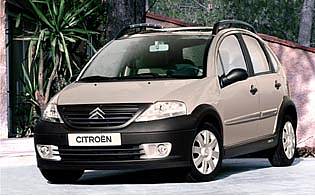 Chunky-looking XTR possesses a much tougher stance than the regular C3
Ratings
Overall rating
Value for money
Costs
Space and practicality
Controls and display
Comfort
Car security
Car safety
Likes
Cheap insurance won't alienate many potential buyers
Chunky bodykit and styling touches will appeal to some
Full-length glass sunroof makes for a light, airy interior
Nifty roof bars will help when it comes to load lugging
Gripes
Diesel engine is vocal at start up
Interior is heavily dependant on harsh plastics
Gear change feels slightly laboured and notchy
Digital speedo and instrument display looks kitsch
Citroen's C3 has been popular since its launch in 2002. Fans will say this is due to the car's cheeky looks and broad capabilities, while the rest of us may feel the French firm's superb discounts and deals have something to do with it. The XTR is a faux off-roader version of the supermini and joins the likes of VW's Polo Dune in this burgeoning market segment.
There are only a few real certainties in life; one of these being that Citroen will always be willing to offer buyers some fantastic deals. This isn't the only reason to buy one, but it is a major incentive.
Of all the models in the C3 range the XTR, along with the funky yet flawed Pluriel, has to be the coolest. Its chunky alloy wheels and up-for-a-fight plastic farings give it the look of a small off-roader, which was exactly the effect the designers were after.
Cars like the Volkswagen Polo Dune are proving popular with UK buyers. In reality they are simply citycars in fancy frocks, but this isn't deterring those looking for something a bit different from taking the plunge. Take them onto the rough stuff at your peril, but if all you're after is more visual bang for your buck then they're hard to knock.
An affordable price tag, cheap insurance and reliability should give the C3 XTR enough of an edge to compete with its rivals.
Our verdict on the Citroen C3 XTR 1.4-litre HDi 16-valve
Slightly funkier version of Citroen's C3 supermini is aimed squarely at those who live an active lifestyle. However, it isn't terribly practical and will struggle even on a gravel path.
Costs

It's rare these days to pay full price for any Citroen, thanks to the firm's numerous attractive promotions. Residuals should be stronger than on standard C3 models as there are fewer XTRs in circulation. Insurance groups are low, as are parts and servicing costs, so running an XTR should be relatively inexpensive. Good fuel economy on the diesel model also helps.
Space and practicality

The C3's boot is spacious for a car so small and the Moduboard (essentially a split, folding rear seat) opens up even more stowage potential. There are a few cubbyholes dotted around the cabin in which to place loose change, keys and the like. The glovebox isn't particularly spacious, however.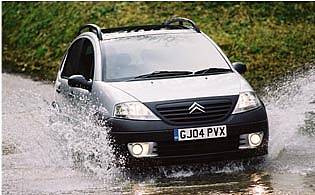 Don't get carried away - the XTR is still a humble supermini under the cladding
Controls and display

Clear and concise' sums up the XTR's major controls and instruments. The only disappointment is the fuel gauge - a collection of LCD 'blobs' that make judging accurately what's left in the tank a little tricky. Otherwise, switchgear is logically placed and the digital speedo requires only a brief acclimatisation period. The combined trip computer and radio display mounted high in the driver's eye line is a welcome touch.
Comfort

Front occupants are treated to a slightly elevated seating position but back seat passengers will baulk at the prospect of long trips thanks to the car's distinct lack of legroom. The seats themselves are soft and flat, which is good if comfort is a priority, but not so when cornering as lateral support could be better.
Car security

Remote control central locking with deadlocks and automatic door and boot locking when the car is in motion should at least ward off any would be carjackers. A group 5E insurance grouping suggests that the XTR isn't particularly high up on anyone's 'to steal' list.
Car safety

ABS with EBD and EBA, dual front and side airbags and side impact protection are charged with keeping the XTR's occupants safe and sound. A passenger airbag cut-off switch will be very handy for those with small, precious bundles to transport.
Driver appeal

The XTR is not a sportscar, but as far as tootling around town goes it is more than adept. Light steering and quick engine pick-up make it an ideal car for zipping in and out of busy side streets. Motorway driving isn't quite so pleasant due to the wind noise thrown up by the roof rails and its propensity for catching side winds.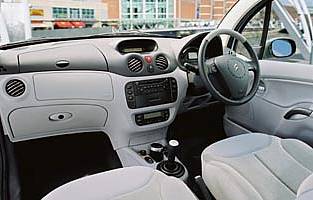 Light coloured trim helps make the cabin feel airy and spacious
Family car appeal

Realistically, the only function the C3 could perform competently in the family arena is that of the second car. Being a supermini, it would be asking a lot for the little Citroen to cope with the rigours of ferrying around 2.4 children and their various bits and bobs. But as a second car it looks and feels rugged enough to cope with taking little Johnny to football practice.
First car appeal

Given the low insurance grouping, affordable asking price and funky styling, there won't be any shortage of young drivers keen to get their hands on an XTR. There is room enough for a couple of mates and their surf/skate/snowboards on the roof. Parents will also be happy with the C3's reasonable safety package.
Quality and image

French cars used to have a reputation for being a little brittle when it came to build quality. Things are greatly improved these days and there is no reason to believe that the C3 will be any less reliable than its competitors. In terms of image, however, the Gallic firm still struggles. Say Citroen and the phrase 'bargain deals' springs instantly to mind, but that's about it. The C4 goes some way to creating a wow factor but on the whole the brand has a rather staid imaged.
Accessibility

Being a five-door makes the job of getting in and out of the back far easier. Nicely elevated seats mean that it isn't too much of a drop down before bum touches fabric. Forward passengers have plenty of leg and headroom.
Stereo and ICE (In car entertainment)
Citroen's decision to fit a decent quality radio/CD player as standard will please anyone who bemoans the current trend to skimp on in-car audio. Column stalk-mounted controls for the basic functions make changing the volume or radio station safe when on the move. A dealer-fit option on both cars is an in-dash CD changer, which makes rummaging in the boot to change a disc a thing of the past.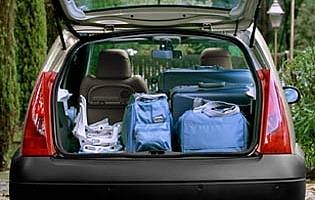 The C3 XTR's boot isn't huge but Moduboard facility unlocks a few extra cubic inches
Colours and trim
As is the trend among car manufacturers, the C3 XTR is available in a wide variety of oddly-named shades. Sahara Gold, Hurricane Grey, Artic Steel, Oriental Blue are among the more pleasant hues. The plastic cladding that covers much of the exterior is always black, however. Inside and one can't fail to notice the prevalence of harsh, shiny plastic. The seats, which have been specially designed for the XTR are covered in dark grey cloth. It looks hardwearing but does little to alleviate the sombre mood in the cabin.
Parking
Boasting the dimensions of a conventional supermini, the XTR is fairly easy to park. Steering is pleasingly light at low speed, as is the action of the other major controls, and visibility is good. Familiarisation with the SensoDrive gearbox is the key to confident and swift manoeuvres. Parking sensors would make things easier, but are not offered as an option.
Spare wheel
Space saver fitted as standard on all models.
Range information
Two engine options - 1.4-litre (90bhp) petrol; 1.4-litre (92bhp) diesel. Former fitted with five-speed SensoDrive clutchless manual gearbox, latter with five-speed manual gearbox. No specific trim designator as engine choice dictates equipment levels.
Alternative cars
Volkswagen Polo Dune German has desirable badge, but a large price tag
Fiat Panda 4x4 Italian may have four-wheel drive but it's also good around town
Ford Fusion Blue Oval's supermini isn't available with plastic cladding
Suzuki Ignis Cheeky little Suzuki is a feisty urban runabout
Over 1,200 more car reviews online
All the reports since 1990 are available on this site, just search by make and model below.
Other products & services
Related information
April 2005