Audi A4 2.0 TDI SE saloon
December 2004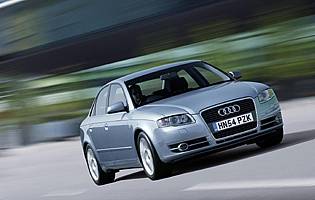 The A4's new single frame grill is difficult to miss
Ratings
Overall rating
Value for money
Costs
Space and practicality
Controls and display
Comfort
Car security
Car safety
Likes
Cabin build quality easily outshines that of its rivals
Comprehensive choice of engines and transmission options
Four-wheel drive quattro system is no gimmick
A4 now a more involving and entertaining car to drive
Gripes
Long options list could prove a costly temptation too far for some
Multitronic CVT gearbox is an acquired taste and doesn't like to be rushed
From the front the A4 is too similar to Audi's smaller A3 Sportback model
Real world thirst of V6 and FSI Turbo petrol engines
Since its original launch the A4 has attracted a sizeable following. It may not have possessed the same driving talent of BMW's 3 Series, but Audi's compact executive cut a more modest dash on the road and its cabin was easily the better built. The range has always been blessed with great engines - especially diesels - but it's the 2005 model year car that unlocks their potential thanks to a thorough overhaul of its chassis.
In the past, to dismiss Audi's A4 as an also-ran in the face of the mighty BMW 3 Series steamroller was to miss the point. The Audi may not have been able to match the BMW on a twisty B-road, but neither did it sacrifice passenger refinement to entertain the driver.
Pitched more towards prospective owners who put style and image ahead of outright driver involvement, the A4 attracted a loyal - and sizeable - following. Its mix of impeccable build quality, understated design and range of capable engines proved a hit with people who didn't fancy Mercedes' more mature C-Class or the driver-focused 3 Series.
And yet, for all its efforts in producing something different, Audi - and all the other premium marques for that matter - couldn't quite overhaul the car with the blue and white propeller badge on its bonnet. Buyers, it appeared, really did want a car that promised to entertain, even if they barely scratched the surface themselves.
Which is where the 2005 model A4 comes in - proudly wearing Audi's new corporate grille, boasting a few extra millimetres in all the key areas, more equipment and (optional) toys and, crucially, a more sporting on-road demeanour. It's not the same firm and sometimes fidgety ride of a 3 Series, but a more composed display. As before, quattro four-wheel drive is an option, making the driving experience more secure and exciting in equal measure. All in all, this A4 is possibly the best all-rounder in the compact executive market.
Our verdict on the Audi A4 2.0 TDI SE saloon
Blessed with more extrovert looks and a chassis that should put a smile on any keen driver's face, the 2005 model A4 is a huge improvement over its predecessor. Although the changes may appear incremental given that the A4 looks - grille aside - largely unchanged, the overall result is something that survives comparison with BMW's 3 Series. In many key areas it even beats the Bavarian bruiser.
Costs

The A4's base price is merely a starting point; so bear that in mind when comparing with rival models. Tick a few choice options (sat-nav, leather, comfort items) and it won't be difficult to blow your self-imposed budget. The upside is a car that will return a solid performance when it comes time to sell on. At a more mundane level, servicing is par for the course in the executive sector, while day-to-day running costs can be reduced further by opting for one of the frugal diesel engines.
Space and practicality

It may not appear obvious at first glance but the A4 is slightly larger in every important dimension than its predecessor. This becomes apparent when sat inside the car, as there's a little more room to play with. Front seat occupants probably won't notice the difference but back seat passengers will - at last there's a reasonable amount of head and leg room in an A4. The saloon doesn't get the Avant's split folding rear seat as standard but there are enough places (glovebox, various cubbyholes) to deposit sweets, maps and mobile phones.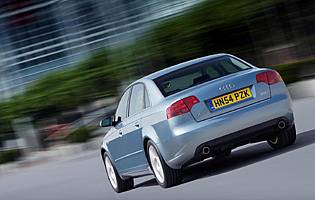 Audi's revised A4 keeps its familiar simple, svelte rear
Controls and display

Like BMW, Audi has a reputation for building cars boasting clear and functional yet stylish instruments and controls. The A4 is another shop window for its maker's talents, as the main dials are big and bright and all the various controls feel positive and are where you'd expect them to be. Small touches such as the steering wheel controls, simple to use audio unit and its secondary display between the speedo and rev counter, make life easy . And although not cheap, the optional widescreen sat-nav system is an object lesson in clarity and ease of use.
Comfort

The base model notwithstanding, if you want a supple ride you'll need to opt for an A4 in SE trim. Boasting a more relaxed gait than the S line specification, SE does without firmer suspension and figure-hugging front seats. The range as a whole is far from patchy, however. Road and engine noise is pleasingly low - unless you opt to drive in an enthusiastic manner - and, despite the car's modest size, occupants of average build won't feel cramped.
Car security

The basics are covered in the security category, namely remote controlled locking and a Thatcham Category One anti-theft device. For peace of mind, and to act as a visual deterrent, there's also a visible vehicle identification number. Pay a little extra and you can have a storage pack that includes under-seat trays - ideal for keeping small valuables out of sight.
Car safety

In standard trim all A4s come with reassuringly high level of safety kit. Twin front and side front airbags are fitted along with curtain airbags. Active safety measures include ABS, traction and stability control, electronic brakeforce distribution and a seat belt reminder. If your pockets are deep enough you can choose to supplement all this with the likes of rear passenger side airbags, adaptive (swivelling) headlamps, which are only available with xenon lamps, Isofix mounting points for child seats and an auto dimming rear view mirror.
Driver appeal

The previous generation A4 always had to play second fiddle to BMW's 3 Series but now the talent gap has been narrowed significantly. Seasoned enthusiasts will always migrate to the BMW, but the front-wheel drive Audi is a surprisingly good steer. Numerous underbody improvements have produced a car more willing to corner quickly and one that delivers more feedback to the driver. In quattro four-wheel trim the improvements are even more noticeable - grip levels are impressive and it's easier to exploit the car's abilities while still feeling safe. Unsurprisingly diesel engines reign supreme, with the 2.0-litre TDI proving a great all-rounder. Petrolheads won't be disappointed by the advanced 2.0-litre FSI turbo motor, though.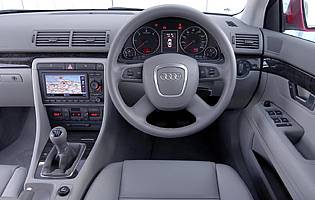 Impressive build quality is evident everywhere in the A4's cabin
Family car appeal

A safe, well built car, the A4 will no doubt attract buyers who need an executive vehicle for business but want something robust for family duties. Yet for all its plus points, airbags and (optional) Isofix child seat mounting points, the A4 saloon is trumped by it's more practical Avant load-lugging cousin. Whichever model you opt for, it would be wise to avoid leather upholstery if your family comprises unsympathetic family pets and small children.
First car appeal

The A4 doesn't come cheap, and so is unlikely to appeal to any novice on a budget. If you have the means, or work for a generous employer offering you a car of this status, take heart in the knowledge that the A4 is an easy car to drive. The major controls demand little effort, visibility is good and parking the thing is a straightforward exercise.
Quality and image

Recent years have seen Audi work hard at generating a high-class image and enviable reputation for building cars boasting peerless levels of fit, finish and attention to detail. The latest generation A6 saw the culmination of the company's efforts, and the A4 successfully continues the trend. Simplicity and clarity best describe Audi's philosophy, and it's these attributes that have tempted increasing numbers of buyers to the brand.
Accessibility

No problems here: front seat occupants won't have to struggle to gain access, and aren't hindered in their efforts to egress either. Rear seat passengers have to, predictably, make do with a smaller cabin aperture, although getting in and out is hardly an ordeal if you're reasonably flexible. At the rear the A4's boot can be accessed directly or remote release, and the load lip is sufficiently low enough to make loading even bulky items easy. Sadly, a split/fold rear seat - standard on the Avant variant - is a cost option.
Stereo and ICE (In car entertainment)
Base level A4s are saddled with a combined radio/cassette player, which is a shame for a car in this class. However, it's a fair assumption that few people will opt for the base model out of choice, making the CD player-equipped SE and S line models more realistic propositions. If you want a more impressive set-up you'll have to look to the options list, where there's a six-disc CD changer incorporated into the head unit and an impressive DVD-based sat-nav system. Although not cheap, the top spec sat-nav unit is easy to use and boasts a clear widescreen display. Options also exist for a TV receiver (combined with the sat-nav), mobile phone/Bluetooth wireless preparation plus steering wheel mounted audio controls.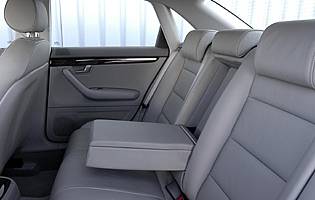 The A4's enlarged dimensions has led to more room for rear seat passengers
Colours and trim
There's no shame in opting for silver - it suits the A4 well - but brighter colours such as certain blues and reds are also worth considering if you want to compliment the car's bold grille. With numerous permutations available for trimming the A4's interior, there's always the danger of getting it wrong. Stick to simple combinations such as dark cloth or leather and you won't go wrong.
Parking
With good levels of all-round visibility, parking the A4 is rarely a chore. The car's steering is light at low speeds and, if you choose a model with a manual gearbox, modulating the throttle and clutch takes no time at all to master. The only complaint is related not just to the A4 but all saloons, as judging where the boot ends can be tricky when you're parking an unfamiliar car. Practice helps but parking sensors are better. Fore and aft devices can be found on the Audi's options list.
Spare wheel
Standard size spare fitted across the range.
Range information
Petrol engines/variants - 1.6-litre (102bhp); 2.0-litre (130bhp); 2.0-litre FSI (150bhp); 1.8-litre turbo (163bhp); 1.8-litre turbo quattro (163bhp); 2.0-litre FSI turbo (200bhp); 2.0-litre FSI turbo quattro (200bhp); 3.2-litre V6 FSI (256bhp); 3.2-litre V6 FSI quattro (256bhp). Diesel engines/variants - 1.9-litre TDI (115bhp); 2.0-litre TDI (140bhp); 2.5-litre TDI (163bhp); 3.0-litre V6 TDI quattro (204bhp). Five and six-speed manual transmissions are standard depending on model. V6 FSI engine comes with Audi's 'multitronic' CVT auto gearbox - an option on selected models. Also option is a conventional six-speed auto. All cars are front-wheel drive unless in quattro four-wheel drive specification. Trim levels: base, SE and S line. SE is the A4's comfort/luxury specification, while S line cars boast more sporty handling, sports suspension, sports front seats and a three-spoke steering wheel.
Alternative cars
BMW 3 Series Best of the lot as a driver's car; passengers will find ride harsh and rear cabin cramped
Mercedes-Benz C-Class More mature but pricey alternative that boasts a 'cosy' cabin like the 3 Series
Volvo S60 Better value for money but lacks driving talent and prestige aura of rivals
Jaguar X-Type Cabin build quality is only average, but can be had with all-wheel drive like the A4
Over 1,200 more car reviews online
All the reports since 1990 are available on this site, just search by make and model below.
Other products & services
Related information
December 2004