Vauxhall Astra 1.7 CDTi Design Estate
November 2004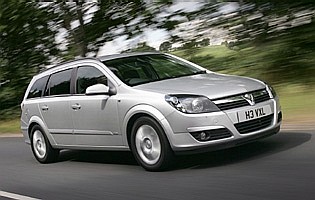 Vauxhalls latest generation Astra has shed its predecessors dowdy looks
Ratings
Overall rating
Value for money
Costs
Space and practicality
Controls and display
Comfort
Car security
Car safety
Likes
Supple ride makes Astra Estate a pleasant car to drive on potholed roads
Sharp looks ensure Astra stands out from the crowd
Rear loadspace is practical and flat; wide opening tailgate affords easy access
Driving position offers plenty of adjustment
Gripes
Centre console controls are not immediately intuitive
Silver finish on fascia likely to become easily scratched
1.7 CDTi engine lacks refinement when cold, although noise is subdued once warm
Rear end styling lacks the same imagination that makes the cars front so striking
After years in the 'worthy but dull' category, Vauxhall's Astra is, at last, a car that you don't have to make excuses for. With a combination of striking looks and generous levels of equipment (standard and optional) the Astra finally rivals cars further up the automotive food chain. In estate form the car is surprisingly commodious, and successfully straddles the gap between compact MPV and full-size estate.
Vauxhall's Astra Estate is a rare car: a load-lugger that looks good. In recent years, the compact estate market has suffered in the face of the rising popularity in mini-MPVs. Far from being 'just high-rise hatchbacks', small people carriers came with their own warm and cuddly personality. You just have to look at Citroen's Xsara Picasso and Renault's Scenic for proof.
The Astra is a little different, though; its a world apart from its dumpy predecessor and a rakish, bold design in a sector where conservatism is making an unwelcome return - see Ford's latest Focus and VW's fifth generation Golf. It might look like a scaled-down Vectra Estate, but there's no denying that the Astra cuts a more dramatic dash than either of its two closest rivals.
Not only is the Astra visually more stimulating than its competitors, but it also delivers on the practical front. Vauxhall should be commended for looking long and hard into what buyers actually want in this sector. The car comes with a flat load bay, numerous luggage tie-down options and some clever passive and active safety electronics.
Granted, it would have been better if the various luggage restraints were standard, but what works for a family probably wouldn't appeal to a sales rep. And there's the rub: the Astra Estate is pitched largely at the fleet sector. For all the cars on-road flair - and its surprisingly entertaining to drive - it will spend the majority of its time pounding motorways and grinding through rush-hour traffic.
But if you dislike the stereotypical MPV driving position and seek something that combines good driving dynamics and versatility in a small footprint, the Astra shouldn't be overlooked.
Our verdict on the Vauxhall Astra 1.7 CDTi Design Estate
Bold looks, an entertaining driving experience, a range of quality diesel engines and some innovative uses of space and technology make the Astra Estate an excellent car in an otherwise conservative market. Granted, Vauxhall sells more of this variant to the fleet sector than to private buyers, but if you want a conventional solution to your load-lugging problems, the Astra is an excellent performer.
Costs

While not exactly a bargain motor from the Far East, the Astra Estate is good value once you take time to appreciate the length of its equipment list. It wont retain as much value as a premium German wagon but it will come with more toys - an important consideration if your budget is a tight one. Running costs are, thankfully, unlikely to match that of a premium estate, as Vauxhall has taken great care to ensure the Astra is repair and insurance-friendly - making garage and running costs pleasing low by reducing labour costs.
Space and practicality

Aside from the usual array of cupholders, cubbyholes and door pockets that you would expect to find in a family hatch, the Astra Estate boasts a well thought out loadspace. With the rear seats in place, Vauxhall claims 470 litres and 1,550 with the seats down to make a flat load floor. A useful 60/40 split is standard, with the option of a more flexible 40/20/40 split and forward folding front seat on selected models. A scan of the options list reveals a number of convenience features, such as cargo nets, supplementary storage pockets and lashing eyes to help secure bulky loads.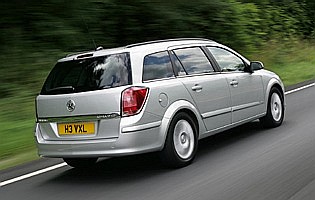 Astras compact rear hides a spacious and practical loadspace
Controls and display

Once you get used to the Astra's indicator stalk, you wont think twice in the future. Just like in the firms Vectra, you nudge the stalk in the required direction and it self cancels. A light nudge gives you three flashes to aid overtaking. Sounds complicated, but isnt. The rest of the cabin switchgear is straightforward, although the centre dial for the ventilation system requires you to press, rotate and observe the graphics on the fascia display to get the air where you want it. Its a more versatile arrangement but slower to use than traditional (analogue) rotary dials. At least the various controls on the Astra's steering wheel are simple: the assorted buttons control basic audio, main menu and satellite navigation functions.
Comfort

Occupant comfort is pleasingly high in the Astra. Seats are supportive, with the front items offering a good selection of adjustments along with a rake and reach adjustable steering wheel. The Astra's supple ride contributes a great deal to its premium feel, with road and wind noise pleasingly unobtrusive - even at motorway speeds. Alas, back seat passengers will feel the pinch, as legroom is modest thanks to need to provide a meaningful boot.
Car security

Estate cars were once perceived to be less secure than their saloon and hatch counterparts by virtue of their exposed loadbays. Thankfully thats not the case today and, just like all good modern cars, the Astras boot is shielded from prying eyes by a rather nifty retractable cover. The car is also protected by remote control central locking and an immobiliser, although an alarm is only standard fit on high-end models. At least theres little chance of the stereo being removed from the car thanks to it impressive integration with the rest of the fascia.
Car safety

As per most modern, post-Renault Megane cars, the Astra is not short of safety kit. Cabin occupants can expect, depending on the model, front and side airbags plus curtain airbags for front and rear passengers. Active safety features include the expected anti-lock brakes plus a number of other electronic helpers - again, dependent on model - such as ESP, Corning brake Control (CBC), electronic damping control, a tyre deflation warning system and a trailer stability programme, which should prove useful for anyone who tows caravans and the like.
Driver appeal

For what is supposed to be a load-lugger first, drivers car second, the Astra Estate is far from dull to drive. Just like its five-door hatch relative, the Astra wagon can be steered enthusiastically and without fear of upsetting the its balance. The Astra's weighty steering, slick manual gearshift and supple ride make it a good all-rounder for family duties and cross-country jaunts. Predictably, diesel engines deliver the greatest bang-for-buck, with the high output 150PS unit huge fun, although the 1.7 100PS unit is a less frenetic all-rounder.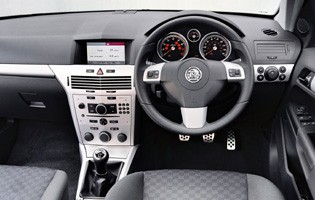 Astras cabin is a welcome improvement over its predecessor
Family car appeal

The Astra Estate cant rival a compact people carrier for seating versatility but, for anyone who finds these cars too cumbersome to drive and park, a mid-size estate like the Astra shouldnt be discounted. Anyone with small children will have no problem accommodating them in the back, while pushchairs and other paraphernalia are easily swallowed by the Astras boot. Copious numbers of cup bolders, secret compartments and the like are lacking in the Astra, but the boots ability to hide belongings from prying eyes shouldnt be ignored. Older children might not warm to the car in the way younger siblings will, thanks to only modest levels of rear legroom.
First car appeal

While not exactly the most exciting of first cars, few novice drivers are likely to have problems getting to grips with the Astra. As compact estate cars go this one is easy to drive thanks to a combination of reasonable visibility and light controls. The highest power diesel and flagship turbo petrol models might give cautious ex-learners an initial fright, but overall the Astra boasts few surprises.
Quality and image

As one half of the 'big two, the other being Ford, Vauxhall has never been a brand that has conjured up a premium image. Associated more with company car drivers and rental outfits, Vauxhall is seen as a maker of 'bread and butter cars. That said, recent improvements in quality are noticeable. Cabin plastics are better than before, and more attention to details such as the provision of steering wheel remote audio controls, convenient folding seats, ingenious cabin storage boxes, luggage stays and electronic chassis/handling aids havent gone unnoticed by the critics.
Accessibility

Despite the Astra's compact dimensions, the car offers a reasonable amount space in which to get comfortable. Front doors open wide, and the seats are mounted in such a way so that you can slide in - not drop down into the car. Of course, the height adjust function is a welcome inclusion, as is the steering wheels ability to adjust generously for both rake and reach. As you would expect, access to the rear is slightly compromised due to the Astras modest size, but only the tallest of adults will find it a squeeze. Rear legroom is modest no matter how tall you are, however. At least the cars boot area is a decent size - the tailgate rises with little effort while the low loading lip ensures heavy items can be deposited with the minimum of fuss.
Stereo and ICE (In car entertainment)
The Astra's unique-fit audio equipment is located within easy reach of both front seat occupants, with a large, central display screen at eye level providing all the relevant information. The 'turn and push rotary controls take a little getting used to but at least prevent the attractive fascia from being cluttered with countless buttons. Control of main functions is duplicated on the steering wheel. Improvements over the standard single CD/radio combo include an in-dash CD changer, digital radio receiver and a telephone function complete with voice-activated controls.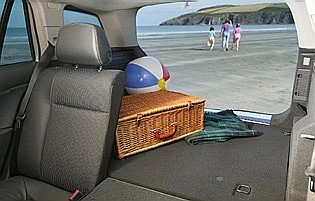 Loadspace is flat and can be configured with a number of useful luggage restraints
Colours and trim
The Astra is a car that wears most colours well, although light metallic shades are preferable to flat, darker hues - something worth remembering when it comes time to sell on your pride and joy. Inside, the Astra's cabin is decked out predominantly in dark plastics, but the silver centre console proves a welcome distraction. Seat fabrics look hardwearing - important if the car is to lead a hard life in the hands of a sales rep, and leather trim for the steering wheel and gear knob on selected cars is a welcome touch. Overall, quality is good. If not in quite the same league as that of a Volkswagen its noticeable better than a comparable Renault.
Parking
With light steering, an easy to modulate throttle and decent size mirrors, the Astra Estate is no more difficult to park than any other modern compact estate. That said, as with so many new cars, forward visibility is slightly compromised by the Astra's oversized windscreen pillars, although you could argue that having the pillars stuffed with airbags as a more than acceptable concession to safety. If you want help reversing your Astra, Vauxhall will happily offer some sensors to help avoid any costly crunches.
Spare wheel
Space saver fitted as standard.
Range information
Eight engine options - 1.4-litre (90PS) petrol; 1.6-litre (105PS) petrol; 1.8-litre (125PS) petrol; 2.0-litre turbo (170PS) petrol; 1.7-litre (80PS) turbodiesel; 1.7-litre (100PS) turbodiesel; 1.9-litre (120PS) turbodiesel; 1.9-litre (150PS) turbodiesel. Standard issue is five-speed manual gearbox. Six-speed unit standard on 2.0 turbo petrol and both 1.9 diesel units, optional on 1.7 100PS diesel. Four- and five-speed auto gearboxes available as options on selected petrol models. Trim levels: Life, Club, Design, SXi and SRi.
Alternative cars
Ford Focus Estate Second generation car visually less radical, but theres no complaints over its abilities
Peugeot 307 Estate Capacious 307 is a decent load-lugger, but lacks driver thrills
Renault Megane Sport Tourer Stylish Megane boasts an adequate boot, but carrying huge loads isnt its forte
Fiat Stilo Multiwagon Worthy but unexciting Stilo wagon cant match its rivals on the road but is surprisingly practical
Over 1,200 more car reviews online
All the reports since 1990 are available on this site, just search by make and model below.
Other products & services
Related information
November 2004