BMW 1 Series 120d SE
August 2004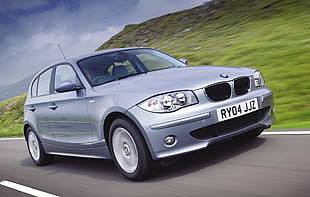 1 Series should shake up the compact hatchback market
Ratings
Overall rating
Value for money
Costs
Space and practicality
Controls and display
Comfort
Car security
Car safety
Likes
The best-driving car in its class
Wears the BMW badge with some conviction
Outstanding choice of engines
Parking sensors on all but entry-level models
Gripes
Cost cutting evident in some use of materials
Paucity of standard equipment compared to rivals
Visibility through rear window is poor
Front seats aside, cabin lacks space
The BMW 1 Series is the answer to many people's dreams - a 'proper' BMW that can be bought new without breaking the bank. That's not to say this premium compact hatchback could ever be described as a bargain, but it does provide BMW's twin performance pillars of rear-wheel drive and 50/50 weight distribution in a manner that is just as enjoyable as a 5, 6 or 7 Series.
Despite initial scepticism from some commentators, the 1 Series is a good-looking vehicle. The front view is typical BMW, offering a subtly updated version of the brand DNA that seems more closely akin to the classy 6 Series than the wilfully obtuse 5 and 7 Series. Even more striking is the car's profile, which seems to suggest the 1 Series is crouched on powerful rear-wheel haunches, ready to spring forward like some industrial reptile.
The uncompromising drivetrain layout means that space inside the cabin is sacrificed to a sizeable transmission tunnel. Though front seat passengers have a decent amount of room and are positively encouraged to adopt sporty positions, rear seat occupants are likely to be more cramped than they would be in many class rivals. The boot is also small.
Interior build quality is generally high and instruments are as efficiently presented as is possible. Some of the materials used aren't quite up to expected BMW standards - items such as the sun visors and glovebox door feel flimsy and cheaply made - but the cabin feels at least as classy as a Volkswagen Golf, if not quite up to the standards of an Audi A3.
But once on the open road, such practical details become surprisingly forgettable. Steering, acceleration and braking are simply outstanding, delivering genuinely sporting feel and feedback to the driver. The 1 Series has bags of character and while it is perfectly happy pottering around town as an urban runabout, it constantly demands to express its capabilities in more taxing environments.
Whether buyers will happily pay a premium in the compact hatchback sector as they do in the executive sector remains to be seen, but the timing of BMW's entry into the fray is significant. Buyers who would previously have opted for a Golf but are uninspired by the current model will be sorely tempted by a 1 Series, so it should inherit the solid residual values and desirability formerly associated with the VW, particularly in its first few years of production. And with no comparable models from Jaguar, Lexus, Volvo, Saab or Mercedes, the 1 Series should account for a healthy slice of annual hatchback sales.
Our verdict on the BMW 1 Series 120d SE
Far from representing a car too far for the BMW brand, the 1 Series proves that the company is just as serious about building a small, more affordable car as it is constructing its heady performance vehicles. The result is a car that can seem compromised by the more practical appeal of its rivals, but one which never compromises its own principle that the driving experience is paramount.
Costs

List prices for the 1 Series are slightly more expensive than for its rivals, but BMW generally judges its markets well and is justified in believing many buyers will pay extra for the badge. If demand remains as high as seems likely, residual values should be excellent. All engines return good fuel economy and reliability should be a given. If remedial work is required though, BMW dealers are generally regarded as fairly expensive, though there are no shortage of specialist independents who will be happy to oblige.
Space and practicality

Perhaps it's simply the fact that we are used to larger executive models and bulky off-roaders wearing the BMW badge, but the 1 Series does not feel particularly spacious. If anything, it is a little cramped. This is largely due to the purist approach to the vehicle's construction, which requires power from the frontal longitudinally-mounted engine to be transferred to the rear wheels via a sizeable transmission tunnel. Some buyers may baulk at sacrificing so much space for a superior driving sensation and will choose a less involving, more practical front-wheel drive alternative.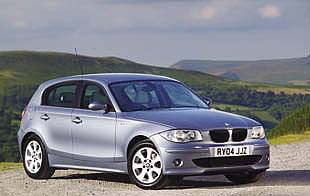 Looks are less radical than 5 Series but just as classy
Controls and display

Layout closely resembles the attractive, efficient treatment of the BMW 5 Series and other contemporary models. The starter button has even been lifted from the rare Z8 super-convertible. It's barely noticeable, but the central instruments are cleverly swivelled to point at the driver without disturbing the overall impression of symmetry.
Comfort

Front seat passengers are well catered for, but rear seat passengers are likely to be cramped. A deceptively high roofline allows good clearance, but a shallow floor and the pronounced transmission tunnel are likely to result in knees and elbows at awkward angles. Three rear seatbelts are provided, which seems like one too many. Realistically though, most cars will rarely carry more than two people if BMW's target demographic is accurate. And don't forget that this is a five-door car, so getting in and out is pretty straightforward.
Car security

Sadly, all BMWs are extremely attractive to thieves, and the 1 Series is likely to be high on their illicit shopping lists. BMW has responded by providing a very good security package on all models with a Thatcham category 1 alarm and visible VIN number. Locating the boot opening mechanism behind the rear BMW badge makes any thief's work harder, too.
Car safety

The agility, rigidity and assuredness of the 1 Series are safety-enhancing attributes that should not be underestimated, but if its performance parameters are exceeded, a raft of systems are on hand to help out including ABS anti-lock braking, Automatic Stability Control (ASC) and numerous other clever electronic acronyms such as DSC, DTC, DBC and CBC which add failsafe functions to steering, braking and cornering. Run flat-tyres are standard on all models, as are brake lights whose brightness varies according to the intensity of pressure on the brake pedal. A novel system can tell the driver if an external light has failed. More conventional safety measures centre on six airbags as standard. Isofix child seat mountings are provided in the back but cost extra for the front passenger seat.
Driver appeal

Rear-wheel drive, front-engined cars can sometimes have problems maintaining requisite levels of rigidity. It is not a problem with the 1 Series, which feels as taut as a bowstring at all times, giving the driver plenty of encouragement to press on. Inevitably, the more powerful engines are the most satisfying, but even the 163bhp of the 120d doesn't seem to test the chassis to any significant degree - which makes the prospect of more powerful performance-oriented variants a mouth-watering one. All cars bar the entry-level 116i (which is slightly lacking in power) come with a six-speed gearbox which further encourages correct, enthusiastic driving. The car's light weight (from 1,205kg) means it feels exceptionally agile.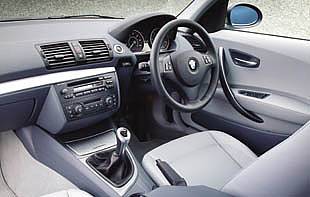 Some cost-cutting measures have inevitably been taken inside
Family car appeal

BMW expects the average owner to be aged between 20 and 40 without children, or with a very young family. The lack of space does not make the 1 Series particularly family-friendly, a fact reinforced by the fact that buyers are expected to pay extra for Isofix child seat mountings. Part of the car's task is to attract more female buyers. Whether the rather austere interior and lack of bootspace will do so is open to question.
First car appeal

For the first time, buying a brand new BMW as a first car is just about within the realms of possibility. While few younger drivers will have the wherewithal to afford a 1 Series, older 'newbies' are likely to love its trustworthy handling, compact size and premium badge. It's fun to drive but not so massively powerful that novices will struggle to control it. The only danger is that it's so entertaining, every subsequent car you own will seem like a let-down.
Quality and image

Some industry figures predicted the 1 Series would be laughed out of town - which just goes to show how little they know. This is a car that looks classy and retains all the essential BMW-ness of its more expensive relations. Understated in appearance, yet compelling to drive, it looks set to replace the VW Golf as the C-segment car buyers will go for if outright value-for-money isn't top of their list of priorities. True, it will command a premium, but it will also command respect.
Accessibility

So svelte is the design that it's easy to forget this is a five-door car, which immediately solves many of the access problems presented by a three-door car. Getting in and out is pretty straightforward, but the sharp angle at which the rear doors are cut makes it necessary to step 'around' the rear quarterlight. The boot lip is fairly high up and also rather narrow but no worse than a Vauxhall Astra's, if not quite as practical as a Volkswagen Golf's.
Stereo and ICE (In car entertainment)
A rudimentary 'Business' single CD player with 6 speakers is standard issue, but many buyers will immediately upgrade to the attractively-priced 'Professional' system which offers four broadband speakers and two underseat bass speakers. Plenty of further techno-savvy upgrades can be specified including Bluetooth telephone preparation, surround sound and a six CD changer. If for some reason you wish to confound yourself with the iDrive system from some of BMW's other models, it can be included at a substantial price as part of one of the two different satellite navigation systems.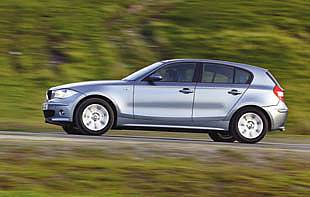 From the side, the 1 Series looks poised and potent
Colours and trim
BMW could have come over all 'funky' in an attempt to woo younger buyers, but they haven't - which is probably for the best. The familiar BMW palette of black and dark grey dominates all trim treatments. Sport models feel classiest with their Black Gomera interior trim and sports seats which add valuable lateral support to the driver. An optional interior upgrade called 'Aluminium Kodiak' is a waste of money, adding some unconvincing pieces of tinfoil to the dash. As far as exterior colours are concerned, traditional, sober BMW dark blues, greys and, yes, black work best.
Parking
SE models come equipped with rear parking sensors. Considering the urban environment in which many 1 Series cars will find themselves, this is an extremely useful addition and provides reversing confidence that would otherwise be lacking due to the fairly poor rearward visibility. Front sensors can also be specified as an option but are largely unnecessary as the driver is afforded a fine view of the bonnet. Overall, the 1 Series is exceptionally easy to park.
Spare wheel
Run-flat tyres come as standard with 16-inch wheels. There is nowhere on board to stow a spare wheel, even if you wanted to. The runflats feature technology that informs the driver if pressure is being lost, allowing him or her to head for a garage as soon as possible.
Range information
BMW 1 Series comes with five doors, four engines and three trim levels. Performance-oriented models and a 118i petrol engine follow later. Engine choice comprises 116i petrol (115bhp); 120i petrol (150bhp); 118d diesel (122bhp) and 120d diesel (163bhp). The range has three trim levels. Standard cars receive only the engine designation. The two other trims (SE and Sport) are similarly priced and have similarly enhanced equipment but offer slightly different design approaches with SE stressing luxury and Sport stressing a racing character.
Alternative cars
Audi A3 Beautifully-crafted interior and a badge on the up
Volkswagen Golf Still good, but no longer the benchmark hatchback
Toyota Corolla Lack of charisma offset by matchless reliability
Alfa Romeo 147 Questionable reliability offset by matchless charisma
Over 1,200 more car reviews online
All the reports since 1990 are available on this site, just search by make and model below.
Other products & services
Related information
August 2004