Audi A6 3.2 FSI SE
May 2004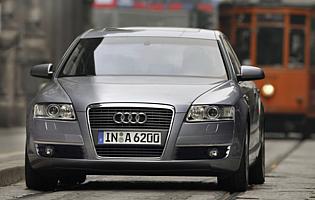 A huge grille dominates the A6's front end
Ratings
Overall rating
Value for money
Costs
Space and practicality
Controls and display
Comfort
Car security
Car safety
Likes
Build quality throughout car is second to none
Choice of powerful, hi-tech engines
Difficult to believe such a large car can be so nimble
Instrumentation a joy to behold
Gripes
Styling remains conservative despite aggressive grille
MMI interface system bafflingly complex
Positioned too close to A8 in Audi line up
A6 is 'upsizing' when business users are downsizing
Audi pinned a lot on the successful launch of its latest-generation A6. The Vorsprung Durch Technik ethos was turned up to maximum levels during the car's development and the result is a truly great car capable of competing with the BMW 5 Series and Mercedes E-Class on equal terms. To many people the A6 is actually better than both.
In a notable departure from the styling of the Audi A8, the A6 debuts the company's new 'face', complete with oversized grille and strong horizontal lines but minimal vertical elaboration. Less challenging than the 5 Series' look it nonetheless possesses plenty of on-road presence. This looks like an important car and makes the occupants feel important, too.
That is at least partly down to its sheer size. Bigger than its rivals, the A6 is almost as sizeable as the A8 and even boasts a larger boot. But inside, the car feels much more taut and involving to drive than its bigger brother. Even models that don't come equipped with quattro all-wheel drive are immensely grippy with direct steering and an evocative engine note. If you want to drive, it will let you get involved. If you prefer to relax, it will waft along in executive comfort with the best of them.
Interior quality is superlative. While some of the controls will be judged over-complex by some, no-one could fault the impressive attention to detail, perfect alignment of controls and the general feeling of being a luxury product.
The simple expedient of making the car larger than the norm also creates ample interior space. To all intents and purposes, the A6 is neither a true mid-size model nor a full-scale executive barge but a model that straddles the line between the two. It is possible that some buyers will find the concept hard to understand but most will simply view it as a case of getting even more for their money than expected.
Our verdict on the Audi A6 3.2 FSI SE
It is difficult to come up with any telling criticisms of the A6, which bears testimony to the thoroughness with which Audi's engineers and designers approached their task. Fuel consumption can be heavy when the car is driven hard, but that is hardly unusual in a market sector in which scrimping for pennies is rarely a consideration. And there are always the equally capable diesel models to fall back on if it does niggle at the conscience.
Costs

No car in the executive bracket could be described as cheap to buy and run, but the A6 makes a surprisingly good job of keeping costs down. List prices undercut most of the competition (on low- to mid-range cars at least) and fuel costs compare well, too. Reliability remains to be proven and there is certainly the possibility that some of the more complex electronic systems could be costly to fix if they do develop glitches, but given Audi's generally solid reputation for reliability, this scenario is unlikely. Still, business users may be tempted to trade down to a Toyota Avensis or Honda Accord rather than trading up to an A6, in order to save on tax.
Space and practicality

Both front-wheel-drive and quattro models offer luggage capacity of 546 litres - an increase of a whopping 112 litres over the previous A6 and more than several cars in the next class up such as the Jaguar XJ.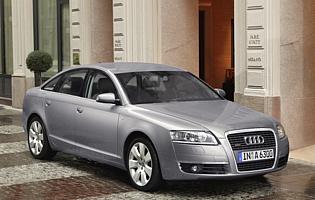 Simple styling belies the A6's considerable size
Controls and display

With the A6, Audi may well have leapfrogged Volvo's XC90 to produce the most impressive interior in any modern car. What it lacks in clever seating arrangements it makes up for with the sheer beauty of its instrumentation. Comparing attractive dials to expensive watches is something of a cliche, but in this case it does hold true. The precision with which all instrumentation and switchgear is constructed, built and illuminated is stunning. One gets a positive feeling of pleasure simply from watching the needles move and hearing the click with which buttons operate.
Comfort

Seat design combines the best aspects of soft executive coddling with the beefy bolsters and firm support expected of sports seats. It is almost surprising to find oneself settled snugly in position while tackling a quick corner. Rear legroom is much better than the previous A6. There are even ten different steering wheel set-ups to choose from, an indicator of the level of personalisation offered by the options list. Expect to pay for the privilege in some unexpected areas.
Car security

Make no mistake, thieves will crave the A6, but they will have their work cut out to actually make off with one. Anti-theft devices include an interior ultrasonic protection system, electronic transponder vehicle immobiliser and an anti-towaway facility. Thatcham category One approval applies to all models. Additionally, the optional advanced key function provides keyless access and ignition if it is carried in a pocket or bag.
Car safety

All of the A6's technical wizardry does not seem to have been included at the expense of safety. Indeed, the same advanced approach results in an impressive array of active and passive safety features including plenty of airbags, a stiff body structure and a safety steering column that comes with a double telescoping function, meaning that like the pedals it is disconnected from any intrusion into the car. Rear airbags are optional, as is a first aid kit located in the rear centre armrest is a cost option - surely at this price, Audi could have thrown in a few bandages and sticking plasters.
Driver appeal

BMW's 5 Series is generally regarded as the benchmark for driving pleasure in the executive class. The A6 at least matches it and many people will actually prefer the extra grip of Audi's quattro system to the rear-wheel drive setup favoured by BMW. Steering and power delivery blend supremely well and the A6 responds keenly to the manner in which it is driven. Work the throttle and it becomes surprisingly involving. If you prefer to watch the miles slip by at a more genteel pace, it feels as if it will cruise effortlessly all day. Special mention should be made of the exhaust note, which has been cleverly engineered to be noticeable without being obtrusive.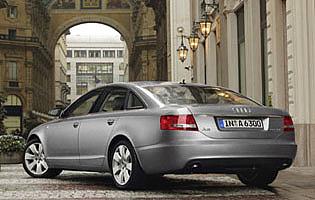 The A6's rear is far more conservative than the front
Family car appeal

A well-heeled family might relish turning up relatives' houses in a swanky A6 but it is not really suited to the school run or picking the kids up from football practice. This is far too adult-oriented a car and operates on the premise that its occupants will not try to scrawl on the windows in crayon or disassemble the rear seats. A child might occasionally be allowed on board though, if only to explain how the MMI system works.
First car appeal

Though first-time buyers will undoubtedly lust after the A6, very few will realistically be able to consider buying one. Still, it does provide an excellent incentive to knuckle down at work and progress up the corporate ladder.
Quality and image

Audi's stock has been rising relentlessly for years now and it is currently one of the most fashionable brands to be seen with. To many it's even viewed as more desirable than a Mercedes, with a more modern, sporting edge. The A6 will only enhance the reputation further, particularly as it is the first car to showcase the firm's aggressive new nose. The only danger is that Audi's relentless plugging of its own brilliance will start to wear thin. Arch-rival BMW rarely brags, and remains the strongest brand in the automotive world as a result.
Accessibility

Another benefit of the A6's step up in size is that no squeezing is required to get in through any of the doors, and even the doors themselves aren't as heavy as they look despite the satisfying clunk with which they close. Interior space is generous enough to accommodate even the most sizeable of business fat cats.
Stereo and ICE (In car entertainment)
Based on the system first seen in the A8, the Audi Multi Media Interface (MMI) bundles the stereo settings into the same screen display as the car's other electronic items such as air conditioning, light settings, warning signals, diagnostics and satellite navigation. Initially, the MMI system seems over-complex but once the driver realises that he or she is only ever likely to fiddle with around ten per cent of what's on offer, it becomes less daunting. Confusingly, the standard MMI package is labelled 'MMI Basic Plus' and contains a 6.5-inch monochrome display, single CD player and DSP 10 speaker sound system. Upgrades introduce a colour screen, TV, DVD player and BOSE surround sound system.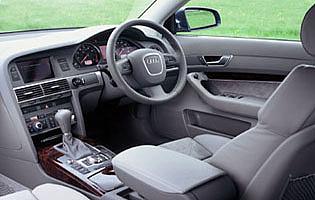 The cabin provides an object lesson to other manufacturers
Colours and trim
The A6 comes with a range of 15 different exterior paints. Businesslike metallic hues seem to suit the car's technocratic demeanour best. Inside, Audi delivers one of the most immaculate interior treatments seen in a car of any class. The variation between different trim levels is dazzling with two different types of fabric upholstery, three different leathers or a fetching Alcantara and leather combination. Inlays include aluminium, walnut and beige birch.
Parking
For such a large car, the A6 is simple to park. That's partly due to the confidence it inspires and the way it kids the driver that it is far more compact than it actually is. That said, parking sensors are still useful and can be specified at extra cost for the rear only or for front and rear. They are not cheap, but cheaper than frequent minor repairs to bodywork. Throttle response is conducive to low-speed parking; often cars in this class can tend to offer too much power in a tight squeeze.
Spare wheel
All A6 models are equipped with a full size alloy spare wheel as standard (to match the wheels on the car), and this can be replaced by an optional Tyre Mobility System (essentially a can of repair mousse) at no cost. A permanent tyre pressure monitoring system is also available as an option.
Range information
Available engines consist of 2.4 V6 petrol (177PS); 3.2 V6 petrol (255PS); 3.0 V6 TDI (225PS); 4.2 V8 (335PS). Additional choices will include entry-level 2.0 TDI (140PS) and 2.7 V6 TDI (177PS). quattro-badged models feature Audi's famous all-wheel-drive system (standard on range-topping models). Transmission options include six speed manual, six speed tiptronic automatic and continuously variable multitronic automatic gearboxes.
Alternative cars
BMW 5 Series Super balance, fine engines, styling divides opinion
Mercedes-Benz E-Class Extremely conservative, which is a good thing in some eyes
Jaguar S-Type Latest examples are fine machines with extensive equipment provided
Volvo S80 Large, comfortable and remarkably good value for money
Over 1,200 more car reviews online
All the reports since 1990 are available on this site, just search by make and model below.
Other products & services
Related information
May 2004