Jaguar S-Type 2.7-litre V6 D S
April 2004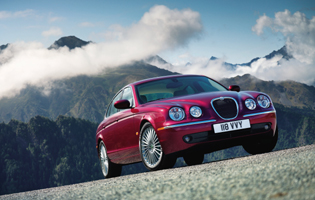 Jaguar's S-Type is an attractive and accomplished cruiser
Ratings
Overall rating
Value for money
Costs
Space and practicality
Controls and display
Comfort
Car security
Car safety
Likes
Revised styling looks sharper and sportier
Power and torque of diesel engine is smooth and exhilarating
Quiet engine makes for a relaxing ride
Good fuel consumption should help keep running costs down
Gripes
Raised tail makes for unnecessarily complicated reversing manoeuvres
Thick A-pillar and large wing mirror obscures front side view
Low boot ceiling hinders practicality of storage space
Body roll around tight corners can be disconcerting
Jaguar's updated S-Type range tries its best to mix it with the big boys of the executive saloon segment, but does it bring enough to the table to be a real competitor? Sharper looks and a V6 diesel engine help the British marque stake its claim.
Most people have a soft spot for the Jaguar marque because of its history and heritage. However, several years of over-weight and uninspiring models meant that the Big Cat's reputation took a severe denting.
But with the modern day S-Type there is a luxury, quality feel to this car that was sadly lacking in previous incarnations. However, is it luxury enough to take on the uber-saloons of Mercedes and BMW? Or can it challenge the Lexus GS on the value for money front?
In diesel form the Jag certainly has the competition a little worried, as its performance and frugality make it a good compromise for the executive who clocks up a large mileage every month. Subtle improvements both inside and out help the retro Brit to mix it with the big boys.
And yet, the S-Type signals Jaguar's intent to embrace modernity and to shake of the final remnants of its previously stuffy image. There are a number of touches and features that convey this, but none more acutely than the inclusion of aluminium detailing in Sport and R models as an alternative to the more traditional wood.
Our verdict on the Jaguar S-Type 2.7-litre V6 D S
Current S-Type is a real good looker and the twin-turbo diesel unit makes long distance cruising an absolute pleasure. Its quieter and more economical than many rivals and the interior is a sumptuous place to be.
Costs

Relative to the main competition, the initial purchasing costs are reasonably low. A group 14E insurance rating for the 2.5-litre V6 and 2.7-litre turbo diesel will keep premium costs down for the more mature driver. 40mpg on the combined cycle and CO2 emissions of 189g/km will make the diesel cheap to run and possibly bring a nice tax break for the company car driver.
Space and practicality

A boot capacity of 400 litres is more than enough to store shopping and suitcases, but a narrow opening does limit practicality somewhat. With the rear seats folded, space is increased to 810 litres, which should be more than enough to accommodate small amounts of flat-pack furnishings - but watch the leather!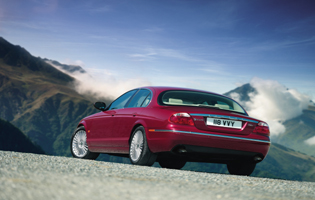 Raised rear end gives the Jag a more aggressive stance
Controls and display

How refreshing it is to come across a new or redesigned car that doesn't feature the now seemingly mandatory coalescing dials. There are no overlaps at all in the Jag's instrument binnacle and it is all the more clear and uncluttered for it. The rest of the fascia is logical in its presentation, with much of the switchgear housed in the central console. The steering wheel-mounted controls for the stereo and in-car telephone are discreetly tucked away on either side of the central hub and in no way interfere with the driver's grip. The wheel is also electrically adjustable for both rake and reach.
Comfort

According to Jaguar the S-Type is quieter whilst accelerating in second gear than several 'nameless' German rivals. You don't need to be a rocket scientist to figure who they mean, but even if you can't you'll have to admit that it's an impressive claim. Head and legroom are in abundant supply in the front where the seats are also particularly comfortable and supportive. In the back, there is slightly less room in the height department.
Car security

All cars come with an alarm, immobiliser and remote control central locking as standard, which should be enough to protect your purchase. Should the worst happen though, Jaguar does offer the Tracker stolen vehicle recovery system on it options list and this may be a sensible purchase.
Car safety

Jag's Adaptive Restraint Technology System (ARTS) measures the severity of the impending crash as well as the height, weight and position of the occupants and deploys the safety systems, such as the airbags, accordingly. Energy absorbent seats help to counteract the effects of a collision, while seat belt pre-tensioners hold the passengers firmly in place. Expect also to find a blend of the usual driver aids, like ABS and dynamic stability control.
Driver appeal

Even the 'slowest' S-Type is capable of 0-60mph in just a shade over 8 seconds, with the Type-R covering the same sprint in a supercar-like 5.3 seconds. All powerplants produce enough poke to keep the average motorist amused, and the S-Type's road manners are impeccable - although there is a little body roll on tight bends. It is in its natural environment, i.e. cruising at speed, that the S really comes into its own. There are very few cars that are as comfortable over long distances.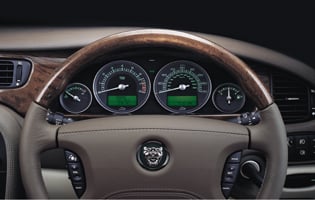 Buyers can now opt for aluminium instead of wood trim
Family car appeal

S-Types offer plenty of space in which to ferry the children around, but that really isn't what the car was designed for. Its primary remit is to make an impression in the executive car park and outside the golf club, and besides, you don't want to get juice and sweeties all over the nice interior do you?
First car appeal

There will be no shortage of young people drooling over pictures of the S-Type (particularly the R) thanks to, among other things, those big alloy wheels and gorgeous callipers. However, high purchasing costs and group 19 insurance will put paid to many a young heart's desire.
Quality and image

In any other market segment Jaguar would likely be head and shoulders above the competition. Unfortunately for the firm, it has the unenviable task of pinching customers from the likes of BMW and Mercedes, which is no mean feat. The executive saloon market, perhaps more so than any other, is heavily focused on badge identity and image and the big German boys are masters of status. That said, Jaguar's image is much improved of late, and the badge is likely to become evermore trendy.
Accessibility

For passengers, both front and rear, access to the cabin is extremely easy. Large door openings and a high floor level mean that it is neither too much of a step up or down to gain entry. Boot space is ample, but a relatively low boot ceiling does slightly reduce the practicality of the Jag's storage space and taller items may have to be strapped to the roof.
Stereo and ICE (In car entertainment)
A decent quality CD player and stereo system, featuring automatic volume control, graces the Jaguar's interior. The now fabled touch screen Jaguar satellite navigation system (available as a cost option) continues to impress with its simple controls and large, easy to read screen. A TV system and in-car phone are also available on the S-Type's options list as part of the luxury package.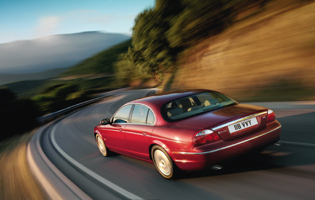 The S-Type can be hugely enjoyable on bendy roads
Colours and trim
S, SE and Sport trim levels make-up the S-Type range. While the usual array of quality woods, cloths and leathers adorn S and SE trimmed cars, buyers of Sport and flagship Type R models are now offered aluminium as an alternative to wood. Sport and R models look particularly fetching with a darker shade of perforated leather seats and trim. Darker exterior colours (particularly green and black) suit the Jag's retro curves and lines well.
Parking
Front park assist sensors are available as an option along with the rear sensors. These gadgets and their audible beeps should make parking a bit easier, but the S-Type's elevated rear end has lead to an elevation of the rear seats, which has impaired vision significantly. A long, disappearing bonnet line and thick A pillars hinders tight parking manoeuvres still further.
Spare wheel
Space saver wheel fitted as standard.
Range information
Range comprises five engines. The smallest 2.5-litre V6 petrol (201bhp) is available with either a five-speed manual or six-speed automatic transmission, as is the 3.0-litre V6 petrol (240bhp). Twin-turbo 2.7-litre V6 diesel models (206bhp) come with either six-speed manual or automatic 'boxes, while both the normally aspirated and supercharged 4.2-litre V8 petrols (300bhp and 400bhp respectively) come with six-speed automatic transmissions only.
Alternative cars
BMW 5 Series German uber saloon is hard to beat, despite risque looks
Alfa Romeo 166 Stylish Italian is best looking of the bunch, but lacks practicality
Lexus GS All-singing, all-dancing Jap saloon is a techno wizard, but still isn't as desirable as European competitors
Mercedes E-Class Hard to find fault with this sleek, stylish and well-built cruiser
Over 1,200 more car reviews online
All the reports since 1990 are available on this site, just search by make and model below.
Other products & services
Related information
April 2004