Audi A8 4.0 TDI quattro
April 2004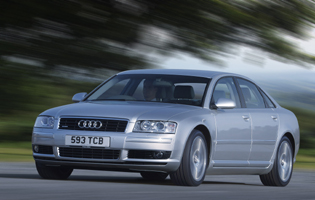 Subtle A8 is a technological tour de force
Ratings
Overall rating
Value for money
Costs
Space and practicality
Controls and display
Comfort
Car security
Car safety
Likes
Sober-looking exterior is great for anyone who hates to show off
Security of quattro four-wheel drive
Rear seat passengers spoilt for legroom, even in standard wheelbase car
Ballistic pace of V8 diesel engine
Gripes
Exterior styling might be too cautious for some
Rivals manage to smooth out serious urban undulations better
Standard equipment tally could be higher on a car costing around GBP50,000
Despite its power advantage over rivals, V8 diesel could be quieter
Audi has taken the hi-tech route with its flagship model, the A8. Just like with previous variants, the car's body is aluminium, it's available with quattro four-wheel drive and can be had with one of a handful of advanced engines. Although not the most plentiful car on the roads, its supporters appreciate the car's subtle styling and driver-focused chassis.
Audi doesn't exactly have an enviable record when it comes to building big, executive cars. It's not that the vehicles in question have been clunkers - far from it. It has always been more a question of image and branding, plus the uphill struggle to loosen the stranglehold grip held on the market by Mercedes.
The upper luxury sector is one where customers are fiercely loyal to one brand, and changing to another is as much about the fear of something unfamiliar as it is a lack of enthusiasm to check out rival products.
What Audi has done with the A8 is to deliver a technologically advanced car clothed in a relatively restrained-looking suit. Granted, its aluminium body is no longer new as the firm has used the technology before, but the combination of the firm's trademark quattro four-wheel drive, superb build quality and a collection of advanced petrol and diesel engines makes for an interesting package. Certainly, on paper it's a lot more intriguing than that of the other German car makers.
Where BMW's 7 Series relies on delivering a surprise at first sight and Mercedes' S-Class is positively everywhere, the A8 manages to take the moral high ground with its mature, sensible styling. For some it will also offer a better drive, which is largely due to the car's pair of best-in-class diesel engines.
With criticism bubbling under the surface about quality at Mercedes, Audi is rightfully hoping to steal a march with its traditionally consistent and high standards. Also, as few cars in this sector pander to the desires of the enthusiastic driver, the A8 is noticeably more enjoyable to steer out of the box than the S-Class and the 7 Series. The latter requires a few costly option boxes to be ticked before the experience matches that of the A8.
Our verdict on the Audi A8 4.0 TDI quattro
Never one to shout about its abilities, the Audi A8 is happiest letting its rivals take centre stage and all the associated attention. Where BMW's 7 Series looks flash and Mercedes' S-Class is everywhere, the A8 demands a more cerebral approach. Its greatest strengths lie under its aluminium skin, and include understated luxury, the security of four-wheel drive and a brutally powerful V8 diesel engine.
Costs

Make no mistake, the A8 is an expensive car. That said, if you're in the market for a saloon of this calibre, the all-aluminium Audi should be on your list of cars to test. Purchase price aside, a diesel will help soften the blow of running the thing, as economy and CO2 tax bandings are lower than for the petrol alternatives. Boasting variable servicing intervals, predicting such costs will be difficult, but at least it will reflect accurately on how hard you drive the car in a more precise 'pay-as-you-go' manner. If you've got the best part of 50 grand to spend on a car like this, such costs will be academic, though.
Space and practicality

The A8's boot is positively huge, which is to be expected in a car of this size. The same is true for back seat passengers - and this is before you opt for the long wheelbase variant. Leg and headroom is more than ample, and there's no shortage of sensible stowage space either. The glove box isn't quite so accommodating as it also houses the CD changer, but is still adequate. Although optional, Audi's keyless entry and ignition feature is worth paying extra for. Keep the key on your person and you can stroll up to the car, grab the handle, get in and start it on a button. All cars should be like this.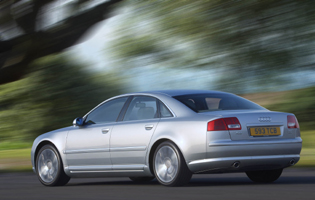 Although a large car, the A8 is surprisingly easy to drive
Controls and display

This is one area where Audi traditionally scores well, and the A8 is no different. All the conventional switches are logically laid out and easy to operate, while the dials are objects of clarity. In an attempt to reduce the button count in the face of offering more features, Audi has resorted to a BMW iDrive-style controller dubbed MMI. Located on the car's vast centre console, it comprises a knob you turn and press and shortcut buttons that take you to the various features, such the stereo, sat-nav and suspension settings. Linked to a crisp-looking screen that's otherwise hidden in the fascia, the system works well but does take some practice to navigate the many different functions.
Comfort

If you think the A8 will deliver the stereotypical 'magic carpet' experience you'll be in for a surprise. To put it politely, the big Audi isn't like other cars in its class. Its ride can border on the firm if the road surface is poor and, if you opt for the larger optional alloy wheels, no amount of tweaking the in-car suspension settings will help matters. Keep it all standard, however, and the taut ride is actually a positive attribute and key to the A8's ability to stay composed when changing direction at speed. Inside, the car's seats are firm, yet supportive, and the driving position easily accommodates drivers of all different sizes.
Car security

With a car costing as much as the A8, it's hardly surprising that it comes equipped with remote central locking plus an alarm with interior movement sensors. Audi's 'Intelligent Key' function saves you from fumbling with a key - a useful anti-mugging and hijack tool. There's even the option of changing which doors the car's central locking will release through the MMI.
Car safety

A big car like the A8 is unlikely to pose many problems in the safety department. The cabin contains driver and passenger front airbags plus side airbags for the four outer seats. The car's four-wheel drive system provides extra grip - especially useful in the wet - and there's a plethora of electronic traction and stability devices on hand if you seriously overstep the mark. Notable optional features include 'active' radar cruise control and a tyre pressure warning system.
Driver appeal

For a car so large, the A8 is one of the easiest to exploit if you're an enthusiastic driver. No limo is ever going to rival the agility of a compact executive, but Audi's driver-centric barge will surprise even the most hardened cynic. In its favour is an adaptive air suspension set-up and the aforementioned quattro drivetrain. These two elements, combined with a responsive auto transmission, make for a nimble car whose size belies an ability to entertain on even the most challenging of A roads. The only downside is that the A8 is only just getting into its stride when at the legal maximum speed limit.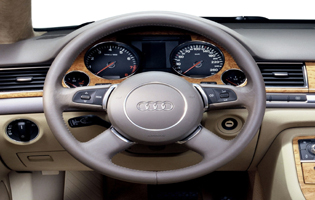 Even the A8's steering wheel marks the car out from the norm
Family car appeal

If you're a successful business type with a family, the A8 is a worthy alternative to the premium people carrier or, more likely, the 'posh' off-roader. For everyday use the A8 is at least equal to the likes of BMW's X5. Boasting more than enough cabin room, a family could easily make the A8 their home away from home. Just as well suited to trips to out of town shopping centres as it is to a spirited jaunt to that holiday cottage in southern France, if you've got the funds it makes perfect sense.
First car appeal

Unless you've got pots of cash and a sympathetic insurer, the A8 is a definite non-starter for the first-time driver. It's too big, too powerful and too valuable. You'll have to dig deep to run it - confirming that the A8 is only really for someone with not only plenty of driving experience but plenty of money.
Quality and image

In the lower value sectors Audi enjoys tremendously strong customer loyalty and a high level of brand awareness. Strangely, this isn't the situation at the A8's end of the market. Offerings from BMW and Mercedes have traditionally enjoyed greater levels of success, but Audi has done more to promote this A8 than ever before in a bid to reverse this trend. What's not in question is quality, both actual and perceived. Shutlines are millimetre perfect, switchgear is precise and the materials used for the cabin are first rate and more than a match for the competition.
Accessibility

With the combination of a generous wheelbase and wide opening doors, the A8 is an easy car for access and egress. Put bluntly, there is no need to compromise. Occupants both fore and aft are blessed with an abundance of legroom, while the cabin's substantial width ensures that four adults can travel comfortably without having to keep their elbows in. Two features (optional, depending on the model) stand out as worthy of extra mention: first is the 'Intelligent Key' keyless entry and ignition system, allowing you to unlock, start the car and then lock it with the key still in your pocket. Second is the car's powered boot, which opens and shuts at the press of a button.
Stereo and ICE (In car entertainment)
On a car costing as much as the A8 you'd expect a decent entertainment package and, unsurprisingly, the big Audi doesn't disappoint. Standard fit is a nine-speaker stereo complete with glovebox-mounted CD changer. All functions are displayed via the car's pop-up fascia screen, with a handy supplementary display between the speedo and rev counter ensuring you don't have take your eyes off the road for long. Control is enabled via the car's Multi Media Interface (MMI), with basic station/track changes plus volume adjustments possible from the steering wheel-mounted controls. You can upgrade to a better sounding system, add a TV receiver and select an impressive sat-nav that is both fast and easy to use.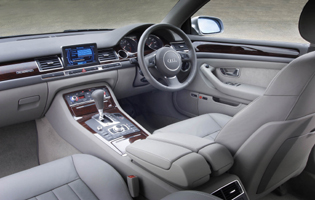 Understated interior is dominated by the A8's feature-packed centre console
Colours and trim
As you would expect in a car like this, leather seats are standard. Alcantara inserts trim the door panels, and there's the option of two different (and more expensive) leather options. You can also opt for 'Comfort' seats trimmed in a softer hide or 'Sports' seats that offer an enhanced level of support. Leather is also used to trim the steering wheel and gearlever. Wood inserts trim the car's fascia and centre console, with the darker option more in keeping with the A8's subdued personality. For such a large car, the A8 can carry off most colours in the options palette, although silver and dark blue are good choices.
Parking
The A8's main role in life was never to be the car you take to the shops, and so it is that you always find yourself taking a cautious approach when navigating through crowded urban areas and car parks. It's not all bad, as visibility from the driver's seat is good, the passenger mirror dips when reverse is engaged, the A8's variable rate power steering makes light work of tight spaces and the parking sensors (front and rear) prove invaluable.
Spare wheel
Cars fitted with wheels up to nine inches wide gain a full-size spare. Over that, Audi supplies its own 'Tyre Mobility System'. The options list includes a tyre pressure warning system and tyres with an emergency run-flat system - a package bundled with the tyre pressure warning option.
Range information
Six engine options (four petrol, two diesel) - 3.0-litre (220Ps) petrol; 3.7-litre (280Ps) petrol; 4.2-litre (335Ps) petrol; 6.0-litre (450Ps) petrol; 3.0-litre (233Ps) and 4.0-litre (274Ps) diesel. All cars apart from 3.0-litre petrol come with six-speed tiptronic auto gearbox and quattro four-wheel drive. 3.0 petrol is front-wheel drive and is offered with six-speed continuously variable transmission (CVT). Long wheelbase option adding 130mm to car's wheelbase available on all models bar the 3.0 diesel.
Alternative cars
Mercedes S-Class Default choice for many executives, but 320CDI cannot match the V8 A8 diesel for pace. Still the most popular, though
BMW 7 Series Controversially styled Seven isn't as driver-focused, but is laden with gadgets and boasts a more compliant ride
Jaguar XJ Like the A8 the XJ is an all aluminium car and feels exceptionally agile despite its size. Although refined and surprisingly affordable, it presently lacks a diesel option
Lexus LS430 Often overlooked, the LS is, in petrol-only form, the most refined and well equipped car here, but lacks the brand image to compete on level terms
Over 1,200 more car reviews online
All the reports since 1990 are available on this site, just search by make and model below.
Other products & services
Related information
April 2004