Mercedes-Benz C-Class C220 CDI Elegance Saloon
May 2004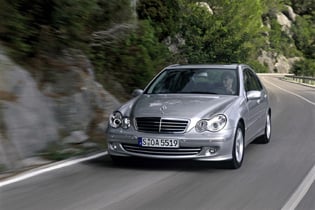 External revisions to the C-Class are subtle
Ratings
Overall rating
Value for money
Costs
Space and practicality
Controls and display
Comfort
Car security
Car safety
Likes
Revised manual gearbox is a huge improvement over the old unit
Overall styling is less 'in-your-face' than a 3 Series and more mature-looking
Refined at speed, the C-Class is an excellent motorway cruiser
C220 CDI diesel delivers good balance of power and economy
Gripes
Mercedes still persists with a foot-operated parking brake
Although adequate, rear legroom could be better
Despite revisions, still too many trim and equipment permutations on offer
Quality of interior plastics could be better
Mercedes has never been the first choice of the enthusiastic driver. Refined, yes; prestigious, yes; but never a brand to serve up a rewarding driving experience in the same way a BMW can. With a revised C-Class, Mercedes' aim is to prove that it can make its compact executive more involving and appealing.
Mercedes might be more famous for its big, luxurious limousines, but the firm's compact executive C-Class has been a stalwart of the range for a long time. The 'baby Benz' as it has come to be known, is an important model for the German car maker, and has been duelling with BMW's equally famous 3 Series for as long as anyone can remember.
In the past, comparing the two cars was been a fruitless exercise; the C-Class possessed a more refined, laid-back personality to the 3 Series' go-getting, sporty demeanour. Things have changed in the Mercedes camp, no doubt in part due to the admiration held for the 3 Series by its many fans, and the C-Class is now a more responsive and enjoyable car to drive. Less a mini S-Class in its behaviour - safe, dependable and reserved - the latest generation of Merc's compact exec boasts responsive steering, a keen ride and, most noteworthy of all, a decent manual gearbox.
It wasn't that long ago that no one in their right mind would buy a Merc with a manual 'box, so poor was the shift quality. The difference between old and new is like night and day, and helps to bolster the firm's claims that the car is a credible rival to the like of the aforementioned BMW plus Lexus' IS range and Audi's A4.
More sporty it may be, but there are some things about the C-Class that never change. Cabin room is modest at best - especially in the rear - and the oft-criticised foot operated parking brake remains. There are also question marks over the Mercedes' noticeable recent dip in quality, which is why some buyers may rue the insubstantial feeling of some switchgear and the only average impression of build quality given off by the feeble 'thunk' of the doors. It may be no Mercedes 190 in terms of perceived durability, but the current C-Class at least delivers a driving experience more in tune with its maker's performance aspirations.
Our verdict on the Mercedes-Benz C-Class C220 CDI Elegance Saloon
The C-Class has always been a popular car, just not one that would put a smile on your face if you decided to have some fun on your favourite country road. While it will never be able to compete head-on with BMW's 3 Series, the small Merc is now a much more enjoyable and focused car. And, if you want to save a few bob, it now comes with a surprisingly good manual gearbox.
Costs

Save for the firm's entry-level A-Class, running a Mercedes is not for the faint hearted. While the screen prices of certain models may appear bearable, equipping them with even a modicum of extras to make them enjoyable can be a costly experience. Purchase price aside, insurance and servicing can also be expensive if you've come from a diet of run of the mill family saloons, although Mercedes' much vaunted Mobilo life 30-year warranty is a useful purchase sweetener. Looking further ahead, CO2 figures could be better - something that could cause company car drivers to reconsider a purchase - although the marque is famous for its strong residual values.
Space and practicality

Compact executive by name, compact by nature, the C-Class may possess style in abundance but it's a different story if it's space you're looking for. Front seat occupants do well, what with decent amounts of elbow and legroom. It's not the same for rear seat passengers though, as legroom is surprisingly modest. If full-on family practicality is required, an A-Class is possibly a safer bet. However, business colleagues won't be impressed if you turn up in a posh family hatch - and therein lies the C-Class' main strength and shortcoming. As compact saloons go, the C-Class contains no obvious practical faults: cubbyholes are sensibly placed, door pockets are usable and the car's boot is a decent size.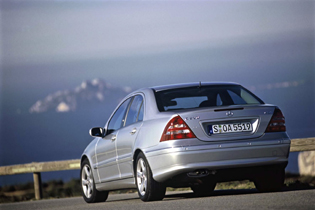 Detailed suspension improvements have made the C-Class a more enjoyable drive
Controls and display

As with its styling, the design of the C-Class' controls are clear, consistent and easy on the eye. Traditionalist will be relieved to see that there's no fancy multimedia control knob or touch screen interface to contend with, just good, old-fashioned buttons and dials. Attention to detail is commendable, with even the optional electric seat controls within easy reach. It's not all perfect inside the C-Class' cabin, though. The car's single column stalk, which contains a number of functions, can be confusing, and there's the awkward foot-operated parking brake. The latter is bearable when combined with an auto gearbox, but not so easily tolerated when used in conjunction with a clutch pedal and manual 'box.
Comfort

As has already been said, the C-Class is better suited to pampering occupants than delivering a razor-sharp, thrilling ride. Anyone seeking a relaxed experience will definitely feel at home in the 'baby Benz'. The cabin may not be the most spacious in this class, but the seats are comfortable and supportive - even the entry-level car's fabric chairs. Ride is supple and wind noise is kept to a pleasing minimum. Go for the optional auto gearbox - something most owners will do - to take advantage of super-smooth and predictable gearchanges.
Car security

Mercedes doesn't make wild claims about its security arrangements, but it does possess a nifty line in keys. Granted, there's the usual protection from the likes of an immobiliser, but the absence of a conventional key - and external lock barrel - should act as an extra deterrent. Don't fear it you're caught short and can't get in due to a malfunction, a spare conventional key is hidden in the fob and can be used to gain access in an emergency.
Car safety

As you would expect from a company obsessed with safety, the C-Class is fitted with all manner of traction and stability aids. Inside, the cabin benefits from numerous airbags. Further enhancing the car's safety appeal is the (optional) inclusion of headlamps that 'see' around corners. Connected to the inputs of the steering wheel, the greater coverage they give is claimed to increase visibility especially when negotiating tricky junctions and country lanes at night.
Driver appeal

Unlike BMW, Mercedes has never boasted of high levels of driver involvement with its entry-level saloon. That said, the C-Class has always been held up alongside BMW's 3 Series - and always failed to win in comparison tests. Conceived as a more mature compact executive, the C-Class' mission has always been to soothe and pamper, although AMG-tuned examples are no slouches. In an attempt to take the fight to BMW, this revised car has been made noticeable sharper, though. While still biased towards comfort, the car is more eager to respond to driver inputs and delivers a more enjoyable driving experience.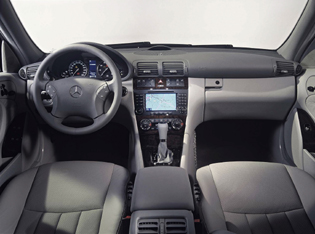 New switchgear and a greater attention to detail mark out the latest generation C-Class
Family car appeal

There are more practical and versatile cars in which to transport a family, but the C-Class shouldn't be discounted just because it doesn't have a thousand different cubbyholes and seats that disappear into the floor. Room in the back of a C-Class may be on the modest side for an adult, but children will have no trouble getting comfortable. The car's boot is generous enough to swallow shopping, although posting odd-shaped items through the boot aperture will prove difficult. At least the saloon bodystyle offers more security over a hatchback, as nothing will be on show to thieves.
First car appeal

Save for an A-Class, it would be a brave - and wealthy - individual who opts for a Mercedes as a first car. The C-Class is not cheap to purchase, and is likely to intimidate the novice driver due to its perceived and actual high value. That said, it's an easy car to drive, and is possibly more suited as a first company car for a newly promoted junior executive.
Quality and image

A strong image is something Mercedes has worked hard at to maintain ever since the company was born. As such, the car maker ranks amongst the best in terms of perceived prestige. What has been in doubt of late is the company's attention to detail and quality matters. Recent years have seen a visible drop in actual quality, with cabin trim and electronics glitches top of list of gripes made by both the public and press. This revised C-Class exhibits evidence of a return to the over-engineered cars of Mercedes' past, what with noticeably improved levels of fit and finish. There are areas that still require improvement though, such as the continued use of low-rent switchgear, but the bad days appear to be long gone.
Accessibility

Despite its four doors and spacious boot, it would be wrong to think of the C-Class as a family car - even as a posh one. More suited to the lone executive or a professional couple, space in the car is modest and would frustrate a busy family. As a case in point, front seat occupants are well catered for. Leg and headroom is good, and the seats adjust in numerous ways with full electric adjustment available depending on the model. Drivers will like the reach and rake adjustable steering column, while the keyfob boasts a considerable range and includes a boot release button.
Stereo and ICE (In car entertainment)
Standard fit on the C-Class is a combined radio and single disc CD player, with basic audio controls located on the steering wheel. Sound quality is good for a car in the executive class, and the unit's controls are easy to use although the display can be hard to read in direct sunlight. Buyers can upgrade to a unit boasting Europe-wide satellite navigation coverage, plus a colour display and phone integration. This unit, while feature-packed, does require more than a cursory glance away from the road when changing modes as the button layout could be more intuitive. At least voice control is a welcome option.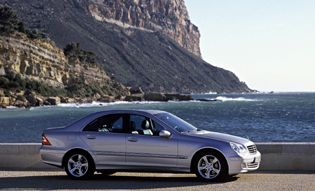 Latest generation C-Class is now more fun to drive and quality improvements are noticeable
Colours and trim
Although hardly an original suggestion, silver is possibly the best choice for a C-Class. As with so many executive class cars, this light metallic shade does a fine job of showing off the car's elegant curves and is a sound choice for when it comes time to sell the car on. Solid cars rarely do the C-Class justice. Despite having culled the vast number of trim permutations to a more sensible level, there still remains a mind-boggling number of exterior and interior options. Stick to simple permutations such as dark seat fabrics - or, better still, leather - and subdued cabin colour schemes if you want to keep the cost down and your time spent pouring over colour charts to a minimum. As a consolation for selecting a 'safe' interior, light colours rarely wear well and often cheapen a car's appearance.
Parking
Boasting a decent level of steering power assistance, the C-Class is easy to manoeuvre in tight spaces. Forward visibility is good, although anyone setting the driver's seat too low will experience problems seeing down the length of the car's bonnet. With a sensibly dimensioned rear view mirror, rearward vision is as good as what you would expect. The side mirrors can't quite match the other reflected surfaces for effectiveness, as, while they are stylish to look at, they're not big enough to instil complete confidence when manoeuvring or overtaking
Spare wheel
Space saver wheel is located in the boot.
Range information
Eight engine options; four petrol and four diesel. C 180 K (143bhp) petrol; C 200 K (163bhp); C 230 K (192bhp); C 320 (218bhp) petrol; C 55 AMG (367bhp) petrol; C 200 CDI (122bhp) diesel; C 220 CDI (150bhp) diesel; C 270 CDI (170bhp) diesel. Standard fit on all cars (except C 55 AMG) is six-speed manual gearbox, with five-speed auto a cost option. C 55 gets five-speed auto as standard. Trim levels: Classic, Classic SE, Elegance SE and Avantgarde SE.
Alternative cars
Volvo S60 Swedish firm's attempt at a compact executive is refined and well built but lacks the driver involvement to compete with BMW's 3 Series
BMW 3 Series Still the best in class, although it's not cheap and sacrifices ride comfort for a sporting drive
Audi A4 Constantly improving A4 can't match the 3 Series for driving enjoyment, but is possibly the better car in terms of build quality and overall refinement
Jaguar X-Type Entry-level Jag aimed at younger buyers and delivers on many levels. Critics bemoan the car's slightly awkward styling, and the cabin is a little cramped
Over 1,200 more car reviews online
All the reports since 1990 are available on this site, just search by make and model below.
Other products & services
Related information
May 2004